Melton's Waterfield Leisure Centre will reopen on Wednesday
Melton's Waterfield Leisure Centre will reopen on Wednesday for swimming and gym sessions despite the borough being today placed under the highest new Covid Tier restrictions.
Thursday, 26th November 2020, 5:35 pm
Updated
Friday, 27th November 2020, 11:02 am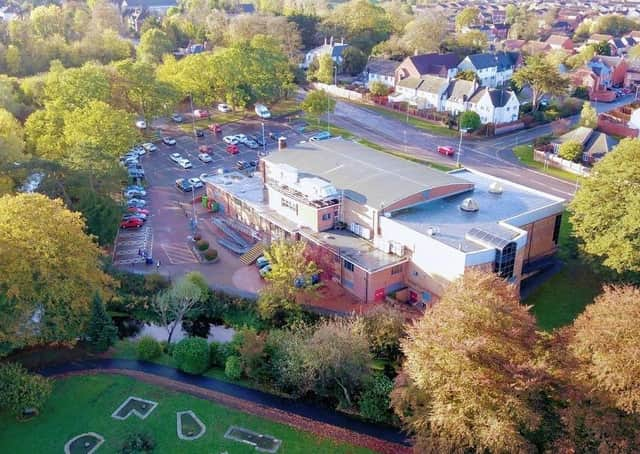 An aerial view of Waterfield Leisure Centre in Melton PHOTO Mark @ Aerialview360 EMN-201126-172729001
The government is allowing leisure centres to reopen across all three tiers of the new set-up announced today although hospitality businesses and indoor entertainment such as The Regal Cinema must be closed.
Everyone Active, which operates the facilities on behalf of Melton Borough Council, confirmed this afternoon that Waterfield Leisure Centre will reopen after being closed since early November due to the coronavirus pandemic.
But Melton Sports Village, which has a gym, indoor sports facilities and outdoor tennis courts, will remain temporarily closed.
The swimming pool at Waterfield Leisure Centre EMN-201126-172740001
It had been hoped that both leisure venues in the town would reopen next week but a company spokesperson said: "Following discussions with Melton Borough Council and a review of what facilities can reopen in tier three areas, we have made the decision to not reopen Melton Sports Village until further notice."
Public swimming and the gym will be open again at Waterfield but group exercise classes cannot take place and neither can indoor team sports.
Everyone Active say social distancing measures will be in place at Waterfield and regular cleaning will be carried out.
Abigail Grewcock, the company's contract manager, said: "We're very much looking forward to reopening our centre and welcoming back the local community.
An aerial view of Melton Sports Village PHOTO Mark @ Aerialview360 EMN-201126-172811001
"After being closed for a month, this announcement from government is the news the leisure industry has been eagerly awaiting.
"It is very important to give people the opportunity to resume activity and exercise in their leisure centre, particularly during the winter months, and this will go a long way to maintaining the good health of local communities."
She added: "We would like to thank everyone who has supported us during this time and would like to acknowledge the impressive manner in which the leisure industry has pulled together.
"We would also like to thank Melton Borough Council for their support, which has proved invaluable during this challenging year.
"Ensuring our colleagues and customers remain safe is our number one priority and we have carefully considered the strict measurements to ensure we adhere to the guidance.
"We will be contacting all customers directly over the coming days regarding the centre reopening.
"We look forward to welcoming everyone back and thank them for their patience."