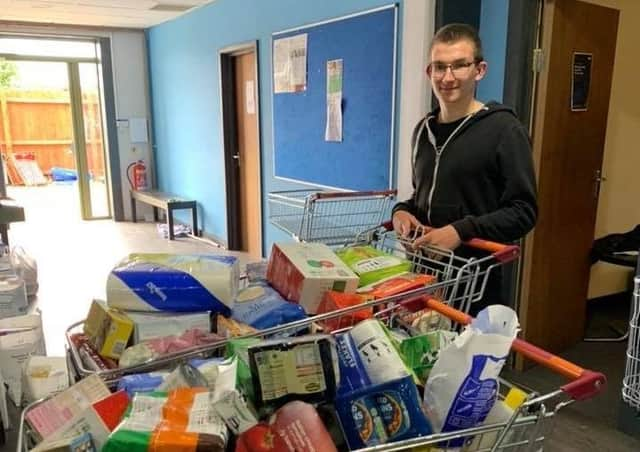 Some of the latest products donated for the food bank at Melton Learning Hub EMN-201117-120936001
Many were struggling anyway in challenging economic times but when the coronavirus pandemic struck in March the closure of businesses and the consequent loss of jobs left others wondering how they would pay bills and put food on the table.
These dark times, however, have prompted an incredible community response to help others less fortunate through the donation and distribution of food and other provisions to those most in need.
Last week Melton's Storehouse food bank delivered food items to 130 disadvantaged families and individuals in the Melton area.
Staff at Melton's Long Field Academy show off some of the food which is being donated to some of the families of students EMN-201117-120404001
The service, organised by Melton Vineyard Church, relocated earlier this year from The Fox, on Leicester Street, to a much roomier space at the Hope Centre, which is now the HQ for the church.
People in need of support for food, toiletries, clothing and bedding are referred to Storehouse by Melton Borough Council after their personal circumstances have been assessed.
Beneficiaries are currently unable to visit the centre due to Covid restrictions so volunteers are instead delivering items to them.
Storehouse co-ordinator, Caroline Stannard, told the Melton Times: "We are seeing a new demographic of people approaching us which we've not seen before.
Sarah Cox, manager of Melton Learning Hub EMN-201118-112644001
"These are people who have had assets in the past but who are now struggling for whatever reason.
"This includes a family, for example, where both parents have lost their jobs.
"These are people with a mortgage who have been able to support a certain lifestyle but who now have problems paying their bills."
The service is currently ensuring people get food and toiletries at the moment rather than other supplies.
Councillor Alan Pearson EMN-201118-112708001
"We are not accepting bedding and clothing at this moment in times because we are priortising essentials like food and toiletries," said Caroline.
"People have been very supportive of Storehouse over the years, our supplies are donated by local people, including businesses, the rotary clubs and churches.
"Lots of people have been leaving boxes of supplies in church doorways to help those in need."
She paid tribute to the remarkable community spirit shown by residents in the town and local villages since the pandemic began earlier this year, adding: "Melton is just a brilliant place were people have pulled together to support eachother.
Some of the latest donated food at Melton's Storehouse food bank ready for delivering to people enduring financial hardship EMN-201118-175125001
"The important thing this year is that people are looking out for their neighbours which is very encouraging for the future."
Melton Learning Hub has been helping more than 100 families across the borough this year through its food bank service.
Manager, Sarah Cox, revealed the human impact of providing food for people who are in financial difficulties.
She said: "A couple of weeks ago a gentleman came in who had just lost his job.
"He had no savings and he and his wife had just had a baby.
"He was in tears when he saw how we were helping him."
Some of the latest donated food at Melton's Storehouse food bank ready for delivering to people enduring financial hardship EMN-201118-175137001
The food bank work of hub staff enables them to build important relationships with families and children who are classed as vulnerable.
Ms Cox said: "Before the coronavirus crisis, we were cooking 250 meals a week.
"This included breakfast when we were open and a free cooked meal for any child who came along to our youth club on a Wednesday.
"Now, as a community food bank, we're providing 250 food bags a week and supporting 125 families.
"All the children we support are in the vulnerable category, so, when lockdown started, we were only closed for two weeks before re-opening.
"Our local food bank was overwhelmed with the huge demand.
"We've been getting food parcels to vulnerable kids during lockdown and some are on 'at risk' registers.
"In many cases, we're probably the only agency that's 'eyes on' with that child."
The hub receives food donations from the local branch of Tesco through its membership with FareShare, a charity formed to fight food poverty.
Tesco urges local people to donate food to their annual pre-Christmas collection, with the supermarket pledging to top up the value of any donations with an additional 20 per cent in cash.
The Thorpe Road store launches its collection on Saturday and its Express store is also taking part, with donations being distributed to local food banks.
"Every year Tesco customers across Leicestershire are incredibly generous," said Tesco's head of community Claire De Silva.
"But this year is not a normal year, and the charities we work with need to provide more food than ever this Christmas.
"A single tin of tuna or vegetables may not seem like much to give, but if enough people make a small donation then together those donations can make a really big difference to people who need our help this winter."
Morrisons' Melton store has also provided food to Melton food banks to support disadvantaged residents.
Staff at Melton's Long Field Academy are delivering food parcels every week to the families of some of their students.
Donated food such as cereal and tinned products are being distributed, as well as toiletries and sanitary goods.
Neighbours in an Asfordby street are collecting food for disadvantaged local people for Christmas and they would like other villagers to contribute too.
The idea came from residents in Marriott Close who plan to deliver the tins and packets collected to Storehouse, the Melton food bank, in time for the festive season.
Each of the nine households in the Close will give three or four items every week, from December 1 through to December 23.
Anyone who wants to donate food will be able to leave it in a collection tub outside Martin Taylor-Beeby's home at number 2 when the campaign begins.
Mr Taylor-Beeby told the Melton Times: "This year it has been so hard for lots of people, including me, with the added difficulties people face at Christmas so we thought this would be a good idea to help them.
"We are looking for donations of anything which can be stored, such as tinned foods, pasta, crackers, biscuits, that type of thing.
"The storage tub will be outside my home from December 1 during daylight hours and it will be lovely if the rest of the village could take part as well."
Melton Borough Council was quick to set up a Community Support Hub within two weeks of the first coronavirus lockdown in March.
The hub supports the community with things such as advice, guidance, digital support, accessing prescriptions, wellbeing and befriending and food – either emergency provisions for financial hardship or guidance in terms of accessing supermarket delivery slots.
Alongside Melton Learning Hub and Storehouse, the Community Support Hub created an emergency food bank for those who were in desperate need of food during the early months of the pandemic, with 2,662 food bags being delivered or collected between April and August.
Councillor Alan Pearson, portfolio holder for housing and communities said: "In these unprecedented times, we are continuing to work with the community, and our partners, to help respond to this crisis.
"Helping the most vulnerable and those without a support network to get food, medicine and help is our top priority.
"The team have worked extremely hard, along with the rest of the council staff, to ensure our community has all the support it needs to get through this crisis.
"The hub is a vital line of support for those who need help at this time, you may be self-isolating or experiencing financial hardship and we want you to know that there is help available and to get in touch to see how the hub can assist."
The Community Support Hub can be contacted via email at [email protected] or by calling 01664 502502.
There are 12,000 school pupils across Leicestershire who are eligible for free school meals and the county council plans to spend £360,000 to continue feeding those youngsters over Christmas and up to £1million to continue do so during holiday periods at half-term and Easter next year.
Free school meal vouchers will be given to those young people affected as a result of their families experiencing financial problems.
The council had already committed to funding the extension but is now able to use its share of the £170 million Covid Winter Grant Scheme recently announced by the government.
County council leader, Nick Rushton, said: "Children should not go hungry and I'm pleased we stepped up to the plate quickly.
"I welcome the announcement from government that they will support local authorities, such as ourselves, with the new grant scheme.
"We've had to make a lot of tough choices recently and this helps to ease the pressure a little bit.
"Unemployment is rising and the pandemic is making life extremely hard for many people.
"This is a case of doing the right thing and we're committed to supporting the county through these trying times."
The plan is due to be discussed by the council's cabinet on Friday and, if approved, the scheme will be put in place ahead of the end of term in December.