Melton school sends year group home after three Covid cases
An entire year group at a Melton school have today (Friday) been sent home to self-isolate for 10 days after three individuals in their 'bubble' tested positive for coronavirus.
Friday, 19th March 2021, 1:30 pm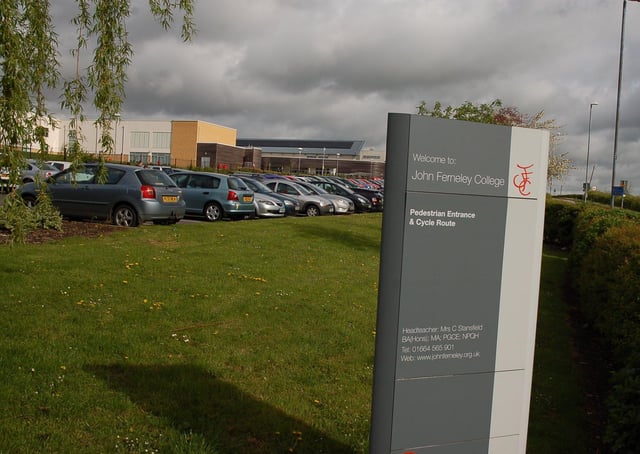 John Ferneley College, Melton EMN-210319-132301001
Public Health England instructed John Ferneley College to take the action with all Year 11 GCSE students to limit further spread of the virus.
The pupils have only been back for two weeks following an easing of national lockdown restrictions and will now be taught remotely from home.
There are no GCSE exams this year due to the impact on education of the pandemic but students are instead due to be assessed for their grades by teachers.
Covid testing takes place at Melton's John Ferneley College as students returned to school following the easing of the latest lockdown restrictions EMN-210319-132339001
A spokesperson for the school told the Melton Times: "We have been advised by Public Health England to send our Year 11 bubble home this morning, to self-isolate for the next 10-day period.
"Overnight, we have received reports of three positive lateral flow test cases in the Year 11 'bubble', and as a result, Public Health England have instructed, as a precaution, to send all Year 11 students home to self-isolate immediately, for the safety of others and those around them.
"We, of course, fully support this guidance and will continue to work with Public Health England and the Department of Education to keep our school community as safe as possible."
All students and staff at the school were tested before they returned to school after lockdown and again when they were back in classrooms - they are now testing themselves at home on a regular basis with test kits.
Staff are keeping in regular online and telephone contact with students in this challenging period when they once again must be confined to their homes at an important stage in their schooling.
The spokesperson added: "We understand that students and parents will naturally have questions and anxieties around this sudden self-isolation of the whole year group, especially having only been back in school on-site since Monday March 8, but we have reassured all students and parents of Year 11 not to worry.
"Our talented teaching team are working with the students to ensure any necessary GCSE assessments are taken in exam conditions, when they return to on-site lessons, following the Easter break.
"As always, pastoral care is central to our self-isolation plans and our Year 11 Pastoral team are keeping in regular contact with students and families at home, offering the upmost support.
"As with all students, staff and families, it is essential that those who are self-isolating, to protect others, must stay at home during their self-isolation period and do not mix within the community."
We reported earlier today that there had been a spike in Covid infections in Melton town for people aged under 40.
Local MP, Alicia Kearns, said, however, that there was no evidence to link this increase to children returning to schools in the last fortnight.