Covid test centre to open in Melton car park
A walk-in Covid testing centre is to be set up in a Melton town centre car park at the start of next month.
Sunday, 22nd November 2020, 4:11 pm
Updated
Sunday, 22nd November 2020, 4:20 pm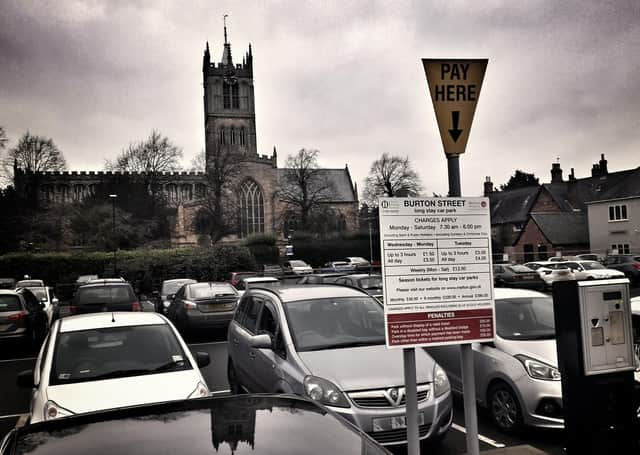 Burton Street car park in Melton EMN-201122-160302001
The move is part of a renewed push to drive down infection rates across the country ahead of a possible roll-out of vaccinations.
Leicestershire has been added to a list of counties where mass testing will be carried out on residents, whether they have coronavirus symptoms or not.
There had been a spike in cases in recent weeks in the Melton borough but latest figures show a week-on-week drop in cases.
Local authority, health and police leaders join forces to ask Leicestershire residents to play their part in bringing Covid infection numbers down across the county EMN-201122-161257001
Melton Borough Council have posted on social media: "From Tuesday November 24, part of Burton Street car park will be closed off to prepare for a local testing centre due to open for appointments in the first week of December.
"This means there will be no access to the electric car charging point."
Local authorities are in discussions to set up centres where large numbers of people can quickly be vaccinated if the encouraging news about possible new vaccines leads to them being made available soon.
The government has indicated that the most vulnerable people would receive the jab first, such as those with serious health conditions and those aged over 80.
Charnwood Borough Council, which governs villages to the west of Melton such as Rearsby, East Goscote, Thrussington and Wymeswold, has confirmed it is negotiating with the NHS to use its HQ offices in Loughborough as a Covid-19 vaccination centre.
A spokesperson for the Council said: "The details are yet to be finalised so this is still only a proposal at this stage.
"However, clearly as a council we will do anything we can to support the battle against this virus.
"The council has supported residents and local businesses throughout the pandemic and should this proposal go ahead, we would be proud to play our part in the vaccination programme.
"The offices have capacity as many more staff are working from home and that is a trend that is likely to continue long term.
"Our understanding is the centre could open mid-December."
Meanwhile senior Leicestershire council, health and police figures have made an unprecedented commitment to work together to drive down infection rates in the final days of the second coronavirus lockdown.
At a media briefing, they all expressed deep concern about a worrying surge in Covid-19 cases – with the days now being counted down to the end of the second national lockdown.
Cases in Leicestershire alone have quadrupled since early October – and they are above the national average.
With rates currently standing at around 500 per 100,000 of the population in Leicester, and very close to 400 per 100,000 of the Leicestershire population, public health chiefs fear this could leave both the city and the county facing further restrictive measures at the end of the lockdown on December 2.
Nick Rushton, leader of Leicestershire County Council, said: "I can't emphasis enough how serious the situation is, so I'm calling on everyone to do their bit to save lives.
"Get a test if you have symptoms and stick to the guidance to defeat this pandemic."
Another concerning factor is the rise in hospital admissions, which are now at higher levels than during the first wave of the pandemic which has, so far, claimed more than 50,000 deaths throughout the UK.
Andy Williams, CEO for Leicester, Leicestershire and Rutland CCGs, said: "We are now seeing the rise in coronavirus alongside annual winter pressures having a significant impact on health services.
"The number of people needing hospital treatment is higher than the peak in the first wave and hospital services are under extreme pressure.
"We have taken the difficult decision to stop some non-urgent operations to look after those with the most serious conditions, including emergencies and those needing treatment for cancer.
"The emergency department at the Leicester Royal Infirmary is very busy."
He advised patients who do not have a serious health condition to contact NHS 111 first so staff can advise on the best way to treat them, and if necessary, make sure they go to the best place for treatment.
Mr Williams added: "People should remember that GP practices are open.
"They are busy but will provide an appointment if necessary.
"Help us to help you by keeping safe and following the guidance to control the spread of Covid-19."
Leicestershire Police say they have dealt with more than 16,000 reports of breaches of coronavirus regulations this year.
In addition to this, since government restrictions came into being in March, the force has issued fines to 589 people.
There have been 17 reports of officers being assaulted in Covid-related incidents, involving spitting or coughing.
And 1,244 licensed premises have been visited by police with partner organisations.
While the force continues its work to engage, explain and encourage in relation to the guidelines, enforcement action is being taken when guidelines are not being followed and advice is not being taken.
The value of the fine is dependent on a number of factors including when the fine is paid and the number of offences committed - but can be up to £10,000.
Leicestershire Chief Constable, Simon Cole, said: "I am very proud of the work that your local force has continued to do, we work hard, putting ourselves at risk in order to keep others safe.
"We have also continued with our day to day policing, preventing crime and dealing with offenders all across Leicester, Leicestershire and Rutland.
"I am very aware that the vast majority of people are obeying the rules and I am sure we are all finding the lockdown tough and the length of time we have been under restrictions is tiring.
"How many times do we remind people that taking these risks not only could result in a substantial fine but that they are putting other people's lives and livelihoods at risk?
"We continue to work closely with health, local councils and other agencies who are also working really hard to ensure people understand what this pandemic means and how to protect ourselves.
"We continue to engage with the public, explain the need to follow the regulations and encourage people to do so however, we will take enforcement action where and when it is required."
People with symptoms are being urged to get a test.
They must book an appointment by calling 119 or at www.nhs.uk/ask-for-a-coronavirus-test
Under the lockdown restrictions, people are being told to stay at home – apart from attending school, college, university, work or to go food shopping.