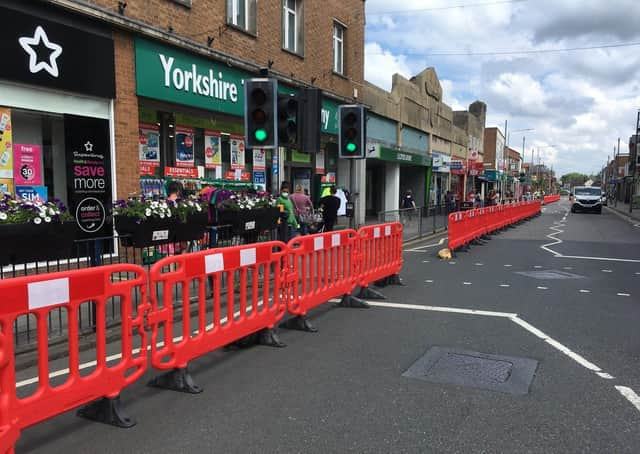 The barriers on Melton's Sherrard Street which were put up to aid social distancing but have now been removed by the borough council EMN-200709-115147001
They were in place on the road in Sherrard Street to help pedestrians safely make their way in both directions along the narrow footpath there.
There was some unhappiness voiced by bus companies, taxi drivers and private motorists who felt the reduced road width and the removal of the option to turn right from Burton Street into Sherrard Street made it more difficult to get through the town centre.
A spokesperson for the borough council told the Melton Times: "Since they were installed we have varied the number of barriers used on Sherrard Street depending on their effectiveness and the benefits they bring.
"We have also been mindful of the significant impact on public transport of the partial closure of the road and the difficulties this causes to residents and commuters.
"Through discussions with the county council and the bus companies, coupled with the recent reduction in Covid-19 cases within Melton, and the general compliance with social distancing measures, we have decided to remove the barriers as a temporary measure but will reinstate them should we need to reinvigorate social distancing measures and messages.
"Melton residents have done really well in supporting the national and local messages throughout the pandemic and following our recent spike in the numbers of positive coronavirus cases.
"But the situation has stabilised and in light of the increasing emphasis of returning to work and school we felt it was appropriate to remove the barriers.
"If the number of cases starts to go back up or we believe the barriers need to be reinstated then we will take action as required."
Despite this latest relaxation in measures to coronavirus restrictions in the town, the council urges residents not to be complacent about taking appropriate action to limit further spread.
"Social distancing is still really important and we are urging town centre visitors to make sure they continue to maintain two metres distance when out and about, especially at busy times," the spokesperson added.
"We continue to review and refine the measures required to support the economic recovery whilst ensuring public health requirements are maintained.
"We have and continue to use a number of measures including town centre ambassadors and visits to retail and hospitality premises to ensure compliance with social distancing requirements."