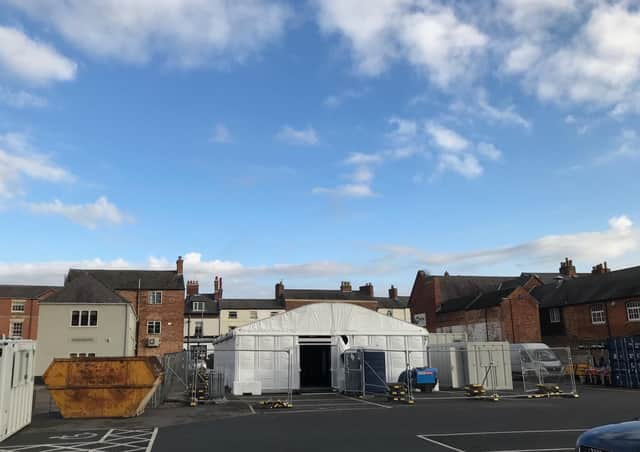 The new walk-in Covid test centre in Melton's Burton Street car park EMN-201130-171631001
Health officials have set up a large marquee off Burton Street as part of the drive to clamp down on high infection rates in the borough.
A drive-through test service is already operating in the long stay car park off Scalford Road for those with symptoms.
And plans are in place in the near future to give lateral flow tests, with quick turnaround results, to targeted areas of the community and frontline medical staff.
The new walk-in Covid test centre in Melton's Burton Street car park EMN-201130-171620001
A spokesperson for Melton Borough Council told the Melton Times yesterday (Monday): "Our understanding is that the Burton Street test centre will open tomorrow.
"It will be for people who have symptoms and who need a test.
"The test centre takes up 30 parking spaces, including the one with the electric car charging point.
"There are other charging points at the Morrisons car park, the King's Head car park and at Pera."
Residents are advised to pre-book an appointment at the Burton Street car park, by calling 119 or going online at www.nhs.uk/ask-for-a-coronavirus-test to get a slot.
Melton MP, Alicia Kearns, said the test centre was part of a package of measures designed to drive down infection rates, which currently stand at 289 cases per 100,000 of the population - the England national average is 218.4.
She posted on Twitter that the borough would receive a proportion of 16,000 lateral flow tests for outbreaks and priority areas, such as care homes, a localised test and trace scheme and a vaccine centre once one has been approved.
Mrs Kearns Tweeted: "The lateral flow tests, which are otherwise known as rapid turnaround tests, take less than 30 minutes to give a result without a laboratory needed and will be deployed to tackle outbreaks, for example in workplaces, particular areas with hot spots and to test key workers.
"Taken together these measures will support us to identify where the virus is in our communities, to isolate it and prevent it spreading to keep our community safe."
The MP made a special plea to younger members of the Melton borough's community: "I particularly urge those aged 17 to 25 who have symptoms to urgently get tested.
"Long COVID is affecting people of all ages with nasty symptoms that last months, and you will spread the virus to your relatives and community members if you do not get tested.
"I've every confidence residents will respond as we did over summer when we had a sudden increase and got it under control in less than month.
"To move out of Tier 3 and uncouple from Leicester city we must first get our rates down."