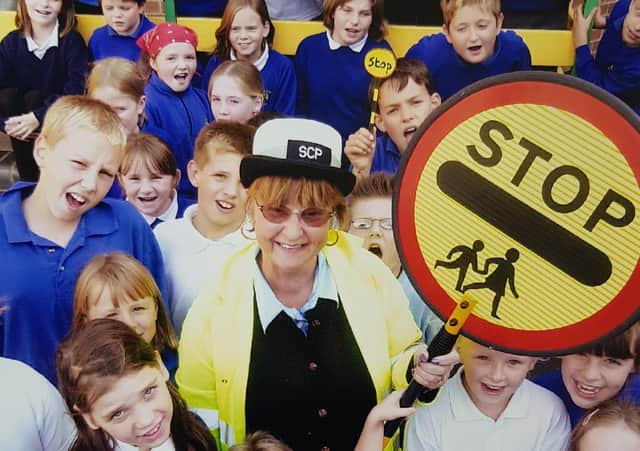 Former Melton lollipop lady, Margaret Hendey, who has passed away aged 78, pictured with The Grove School pupils on her retirement day in 2004 EMN-200109-180557001
She also played an important pastoral role for many, listening to their problems and their worries and acting as a link between pupils and teachers until she retired in 2004.
Sadly, Margaret passed away on Thursday aged 78 after suffering from dementia in her final months.
Her son, Kevin, told the Melton Times: "We were trying to work it out the other day and we reckon she must have looked after more than 2,500 children outside The Grove over the years.
Margaret and Roy Hendey on their wedding day in 1964 EMN-200109-180545001
"Her job was to look after all those kids but she felt a personal attachment to each of them and many times they would tell her things which they didn't feel confident about telling their teachers so she could help in other ways too.
"Mum was very popular and she was a well-known face around town - if you walked into town with her, everyone seemed to say hello and ask her how she was doing."
Margaret was born in Doncaster - her dad was in the merchant navy and mum worked in service - and she came to live in Melton after visiting her cousin in the town.
She met future husband, Roy, at a dance at The Stute and they married back in her home town in November 1964.
Margaret Hendey, a lollipop lady outside The Grove School, in Melton, for 27 years, who has passed away aged 78 EMN-200109-180523001
The couple had two sons - Kevin (49) and 51-year-old Darren, who she lived with at the end of her life after her health deteriorated.
Margaret took up her role as a lollipop lady when her sons both attended The Grove because it fitted in with her family life.
It was quite a dangerous job showing children safely across Asfordby Road when she first started it in 1977.
Kevin said: "Before the crossing was put in people would drive over the hill by the Drill Hall at 40mph and she survived quite a few near misses, or near hits, as I call them.
Former Melton lollipop lady, Margaret Hendey, who has passed away aged 78, pictured with The Grove School pupils on her retirement day in 2004 EMN-200109-180534001
"She only wore a white jacket because they didn't wear hi-vis yellow jackets back then and a lot of drivers drove straight past her while she was in the middle of the road.
"Mum was quite combative and once threw her lollipop stick like a javelin after a car which had been driven straight at her whilst children were crossing.
"Apparently the driver stopped and shouted 'what did you do that for?' and she shouted back 'because you nearly killed my kids' and she did treat them all as though they were her kids."
Margaret wwas always thankful to long-serving headteacher, Adrienne Holland, for the way she involved her in school life, inviting her to assemblies and other activities.
Eventually, the cold mornings took their toll and she decided to hang up her lollipop stick for the last time.
Her spare time was taken up knitting and sharing the family's love for Derby County FC.
Husband, Roy, who died four years ago, ran local teams, including Melton Rams, and he involved his wife in various tasks including cutting up the half-time oranges.
A funeral service, limited to 24 people, will be held at Loughborough Crematorium, at 10.15am on September 11. The cortege will pass by The Grove School one last time where Margaret worked with such dedication for so many years.