Melton school IT breach was 'a sophisticated criminal attack'
Friday, 26th March 2021, 12:45 pm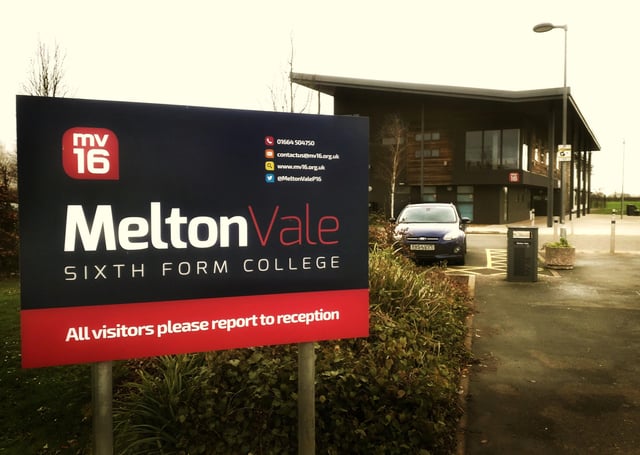 MV16 college in Melton EMN-210326-122132001
We reported earlier this month how every computer and device used by students and staff at Melton Vale Sixth Form College (MV16) had to have its data erased following the recent breach, which affected all 15 schools managed by Nova Education Trust.
The organisation remains confident that no personal or confidential information was accessed in the incident and it has now strengthened its IT infrastructure to guard against a repeat attack.
A trust spokesperson said: "Our internal investigations have determined that there is nothing to suggest that any personal data was breached, however the trust's IT infrastructure was targeted and files were encrypted.
"The central IT team, in conjunction with external IT experts, are continuing their work to determine the extent of what data has been affected - this process is likely to take several weeks.
"Nova Education Trust has always taken IT security extremely seriously and had various preventative measures in place at the time of this attack in line with the expected security practices and related technology for the education sector.
"Unfortunately, like many organisations, the trust was subjected to a sophisticated, high-tech criminal attack which resulted in access to its IT systems despite these measures."
Access to email, school websites and Microsoft Teams was restored for MV16 students within 48 hours of March 3's attack and online learning was resumed.
Students returned to the college on March 10 and 11 in line with the latest step in the easing of national Covid lockdown arrangements.
The trust is hopeful that its experience can help other schools and colleges prevent a similar breach to their systems.
"We are confident that we will emerge from this challenge stronger, and several external parties, such as education trusts, HE and businesses, have been in touch asking us to share our experience of this incident," the spokesperson added.
"We are keen, when the time is right, to share our experiences and learning outside and within the sector.
"The incident was reported to the Department for Education and the Information Commissioner's Office, and the trust worked with the National Cyber Security Centre and additional security professionals to help resolve the matter.
"The trust has been overwhelmed by the positive messages and offers of support and expertise from fellow Multi Academy Trusts, both locally and nationally, as well as the DfE, the ESFA and the local authorities.
"Nova Education Trust would like to reiterate its sincere thanks to all staff, students and parents for their patience and support during this time."