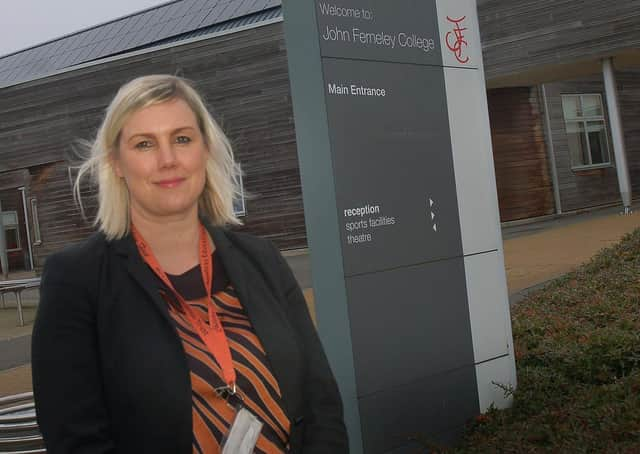 Lara Hall, who is leaving her post as head of school at John Ferneley College, Melton EMN-201007-161212001
Mrs Hall, who has been head for three years, takes over as principal at Nuneaton Academy, in Warwickshire, next term.
She said working at the town secondary school has 'changed my life'.
Mrs Hall told the Melton Times: "I feel so lucky to have worked amongst such a great group of people.
"I would like to take this opportunity to thank all of the parents and students for supporting me in leading John Ferneley over the last three years, and in all 14 years since I began teaching.
"I've loved every minute. There is something very special about this community and I feel so privileged to have been a part of it. JFC students are wonderful, and staff here are an incredible group of people. They are committed, professional and very good at what they do."
On her decision to move on, she added: "Moving to a new school has been a really difficult decision for me because those of you who know me will know that I am so passionate about this school.
"I'm incredibly sad to be saying goodbye to people, but also very excited for the next stage in my career.
"Thank you so very much for your support.
"John Ferneley has changed my life and I will always be thankful."
Christine Stansfield, who is executive headteacher at John Ferneley College and CEO of Mowbray Education Trust, which the school is a part of, praised Mrs Hall for her service.
She said: "Lara has been a complete asset to John Ferneley College and Mowbray Education Trust.
"She has shown such enthusiasm and willingness to throw herself into anything and has always believed in the vision of Children First.
"Lara has supported not only the senior leadership team but the whole staff and our community and we are all so grateful."
Emily Cragg, joint-acting head of maths at JFC, Tweeted her thanks to Mrs Hall, posting: "Not only were you a fantastic teacher who made me want to teach, you are a brilliant leader."