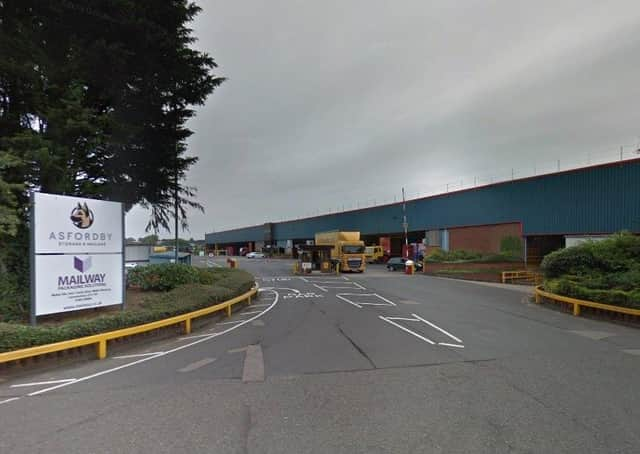 The entrance to Asfordby Storage and Haulage on Saxby Road, Melton EMN-210126-171223001
They currently work at Asfordby Storage and Haulage, on Saxby Road.
The company will no longer have a contract with Melton-based Mars Petcare UK from next year.
This follows a link-up between Mars and DHL to build two giant warehouses, which the firms say will give them more space and will significantly reduce their carbon emissions through fewer lorry journeys.
One of the new warehouses will be near Kegworth, close to the M1 and East Midlands Airport.
Asfordby Storage and Haulage declined to comment about what will happen to staff following the loss of the Mars contract, but several employees got in contact with us, although they did not want to be identified as they are still employed at present.
One told the Melton Times: "We've been informed the Asfordby Storage warehouse in Melton Mowbray will close down in 12 months.
"Workers have been told take the job in Kegworth or they have no job."
Another said: "We were told we will be closing down in a year to 18 months.
"The staff have been told it affects them all, they will all be offered jobs at the new warehouse so there will be no redundancies, but a lot of the workforce do not drive and they are an older workforce."
A DHL spokesperson said: "Employees at Asfordby Storage and Mailway will be offered the chance to transfer over to the new East Midlands Gateway site and we look forward to welcoming them to the DHL family."
DHL has also confirmed that colleagues who are unable to transfer for economic, technical or organisational reasons (such as the commute being impractical) will be entitled to redundancy pay.
And Mars UK confirmed it had signed a warehousing contract with a different operator, with a spokesperson commenting: "We can confirm that after a very competitive tender process, we have made the difficult decision to conclude our existing relationships with our third-party warehouse operators in a phased and responsible approach over the coming years.
"We are grateful to our incumbent providers for their continued invaluable work and desire to ensure a smooth transition between providers.
"It would be inappropriate to comment directly on specific arrangements with our third party businesses and any impact for them.
"We will be working closely with our new partners, DHL, to ensure a smooth transition."
The two new warehouses Mars UK will use as a result of its new partnership with logistics firm DHL represent a £350 million investment.
The company says the sites - near Kegworth and in east London - will be partially solar-powered and will reduce the firm's overall carbon footprint by 16 per cent.
Tim Walker, supply chain director at Mars UK, said using the new warehouses will increase capacity by over 50 per cent and will enable the firm to operate much more sustainably in the future.
He said: "The new logistics operation will remove 7.7 per cent of current Mars transport from roads, equating to a million miles a year."
Mars said the warehouse change would not impact any of its factories and that 'Melton is and will remain an integral part of the Mars story'.
Jim Hartshorne, managing director for DHL's supply chain, said: "Our shared environmental commitments are supported by this investment and we are creating long-term, exciting jobs in both of these communities.
"This project will be the foundation of the UK logistics chain for Mars for many years to come and we are incredibly proud to be selected to lead in this project."