No plans at present to reopen Melton Theatre
Melton Theatre has welcomed this week's announcement of government funding to help the arts industry survive the challenges of the Covid-19 crisis but says it has no immediate plans to reopen.
Wednesday, 8th July 2020, 4:49 pm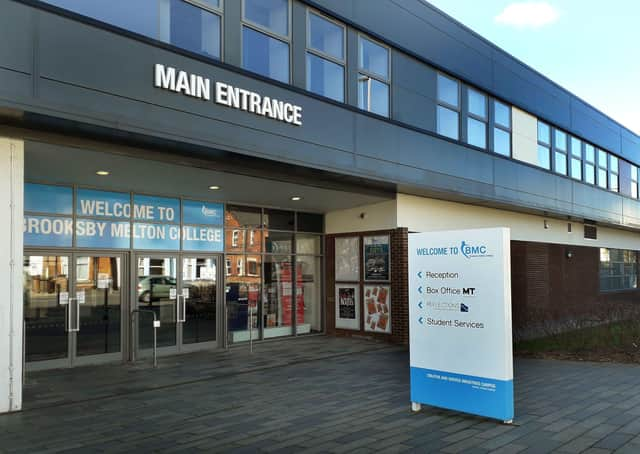 The Melton Theatre entrance at Brooksby Melton College EMN-200807-125708001
The Asfordby Road venue closed in March as part of the lockdown to prevent the spread of coronavirus.
All scheduled shows up to May, including The Comedy Store and tribute acts for Amy Whitehouse and The Beatles, were postponed.
There has been widespread concern about the future viability of theatres if they are denied regular income from tickets sales.
And Chancellor Rishi Sunak this week unveiled a £1.57billion support package for the arts, to include theatres, music venues, art galleries and other cultural institutions.
Lisa Craddock, senior manager responsible for the theatre based at Brooksby Melton College, told the Melton Times: "The Covid-19 pandemic has had a huge impact on the arts in general and many theatres are unlikely to re-open before 2021, if at all.
"Although the government announcement this week is extremely welcome, they haven't published any guidelines in detail or an explanation of the application process and how they will make their decision on which organisations will receive help, so at present we're unable to comment."
The theatre is advertising tickets for a production of Jesus Christ Superstar in September and comedy performances of 'Allo, 'Allo! the following month.
But it is uncertain if these shows will be able to go ahead, along with the annual Chrstmas panto, which provides valuable income.
Ms Craddock said: "Like all theatres we depend on a reasonable occupancy and ticket sales to make a show financially viable, and given the present social distancing guidelines we would not be able to give sufficient proximity to our audience members to reduce the risk of infection.
"We also have a very small wing space and dressing rooms, so the safety of the cast in any show and the ability to act at a distance from each other make performances almost impossible, especially given the guidance regarding singing and the increased risk of transmission of the virus."
Students are also currently being kept away from the adjoining college campus due to the pandemic, including those studying on the acclaimed performing arts courses which make good use of the theatre.
Ms Craddock added: "Melton Theatre receives no funding or support from the Arts Council or local government, and as part of Brooksby Melton College our priority and focus continues to be our students and the quality of their learning experience and education."