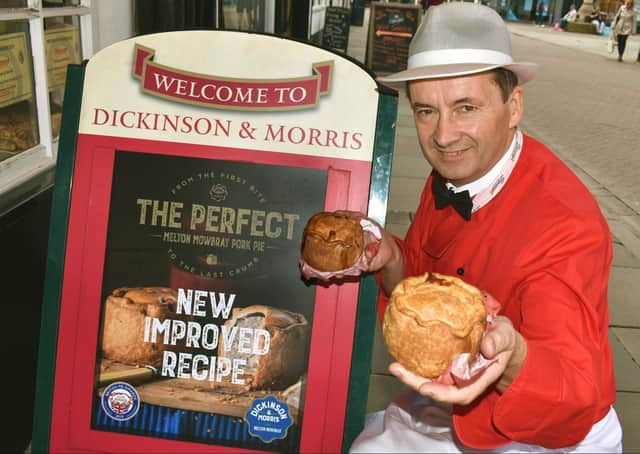 Managing director, Stephen Hallam, shows off the revamped Dickinson and Morris Melton Mowbray pork pie outside Ye Olde Pork Pie Shoppe in Nottingham Street, Melton EMN-201222-081021001
The man, who has been dubbed 'Mr Pork Pie', was head-hunted back in 1992 to become managing director of Dickinson and Morris (D&M) and oversee operations at the town's iconic Ye Olde Pork Pie Shoppe.
He arrived at probably the company's lowest point in its history, which stretches back to 1886, with the Nottingham Street pie shop having burned down following a devastating fire.
The shop was rebuilt and Stephen set about building a brand which is now firmly cemented as one of Britain's most recognisable foods and which was granted geographically-protected status.
Making traditional Melton Mowbray Pork Pies during their Visit to Ye Olde Pork Pie Shoppe in Melton Mowbray... L-R Stephen Hallam, managing director of Dickinson and Morris, Brian Stein, group chief executive of Samworth Brothers, Prince Charles and the Duchess of Cornwall EMN-201222-082256001
He has taken the Melton pork pie to food festivals and events across the UK, taught royalty how to hand-raise a pie and rubbed shoulders with legions of celebrities.
He retires in February - to be succeeded by current shop manager Matthew Gilmartin - but will continue one day a week as brand ambassador for the firm.
Here is a flavour of my conversation with Stephen (64) - who is married to Janet and has a daughter, Louise - about his remarkable career:
***Nick Rennie: So, Stephen, you've decided to retire. Was that a difficult decision?
Melton Bid Business Person of the Year was Stephen Hallam EMN-201222-081156001
Stephen Hallam: It's been 28 fabulous years. To all our suppliers, customers, colleagues and friends, I can only thank them all for helping me enjoy what I do. But there does come a time to pass the mantle on. One should always be doing so when you are on the up and not when you are on the down.
***NR: You are stepping down as MD but will take on the role of brand ambassador. What will that involve?
SH: The new role will be a day a week as opposed to all the hours under the sun - it's 3.45am to 7pm at the moment. The new job will be a day a week. It might be three or four days a week and then nothing for a month.
***NR: You joined the business in 1992. Did you come from a butchery or baking background?
TV chef Phil Vickery (left) inspects the pork pies with Stephen Hallam, of Melton's Dickinson and Morris Ye Olde Pork Pie Shoppe, at the judging for the 2017 British Pie Awards EMN-201222-081309001
SH: I had been on the QE2 for two and a half years, went round the world three times, met my wife, Janet, who was a telephonist on the ship and I was a confectioner and a patisserie on the ship so that was very interesting times.
I became involved with the family baking business in Grantham and the opportunity arose. I got a phone call from the chief exec at the time, Mr Brian Skelston, from this place called the Pie Shoppe, it had had a fire and there was an opportunity to build it into an exciting brand and I was enticed or head-hunted. I was given an opportunity which I thought long and hard about and which I said yes to and here I am 28 years later.
***NR: Has the brand changed over those years? You've obviously made it more prominent since then?
SH: In terms of D&M I don't think there was a brand in 1992. I think what I've been involved with and been doing has helped enormously because it's not just about D&M, it's Melton Mowbray, it's pies in general, the food scene, it's helped us to put Melton on the map that I found to be enormously exciting and it is great to see the name of Melton now up there amongst the best destinations for food and drink in the UK.
Turner's Pies show off their trophy haul from the British Pie Awards, with organiser Matthew O'Callaghan (second from left) and Dickinson and Morris MD Stephen Hallam (second from right) EMN-201222-081117001
I would quite strongly say that this is not all about me. There are others who've been involved and helped take it forward. It's a team effort especially if you have good team members who are all on board and have the same enthusiasm.
***NR: In terms of your image as Mr Pork Pie, is that something you are proud of?
SH: I think I am. But I don't want to say that in an arrogant way. All the assets have been there to enable that to happen. Being a baker you can understand a little bit more because you have a technical understanding of what's going on when you are baking. And then when you've such a famous product as a Melton Mowbray pork pie and it's heritage. Edward Adcock and the hunting thing. It evolved actually. Just as the pie shop evolved in becoming a central attraction for pork pie and food connoisseurs.
***NR: Can you remember making your first ever Melton pork pie?
SH: I had made pork pies in the family business before I came here. But I do remember the patriarch if you like who is still around, called Ian Hercock, who guided me in the rights and wrongs of baking a hand-raised pie and he's still around doing that today.
***NR: When did you take the decision to travel around to different food festivals and take the brand with you?
This photo, taken at last year's Melton Mowbray Food Festival, shows baker and Dickinson and Morris managing director Stephen Hallam giving tips to visitors on how to make a hand raised pork pie EMN-201222-081426001
SH: In the early days we just had the shop and then as it was becoming known about Melton Mowbray pork pies and people wanted the pie the only place they could get it was from the shop. So that's when we started with shows, which would be about 25 years ago.
It grew quite quickly and at one stage we were doing maybe 20 shows a year and spreading the gospel according to Melton Mowbray pork pies and D&M.
***NR: You've met so many famous people over the years, royalty and celebrities. Are there any that stand out in particular?
SH: There have been some who are very warm, open, charming and helpful and there are some who are a little more challenging. But that's life. You will not draw me on who was who.
***NR: How will you spend your time now you won't be working all hours for D&M?
SH: In my semi-retirement I've got two books on the go. I might call one 'Sailing With The Queen' about my time on the QE2 going around the world the other book could be called 'Don't Burn The Pies' or 'Life of a baker in Melton Mowbray'.
I've also been asked to be a guest presenter on a brand new radio station called Food FM. It's in the process of being launched. My piece is called Baker's Dozen and it's me interviewing people in the baking industry.
***NR: How has the Covid pandemic affected sales this year?
SH: Mail order is off the scale, which is why we've had to close the books a little bit earlier so that we don't under-deliver promises to customers in the shop. With protective measures we have in place, which are entirely correct, we can't have the throughput of people through the shop and therefore sales are not as high as we might have seen in previous years.
***NR: What do you think the future will hold for Melton pork pies as an iconic brand?
SH: It's in safe hands. It's a British bastion, it's an icon of Britishness. You think Britain, you think pie. Nowhere else in the world has got pies like we have in Britain. And right there in amongst it is the Melton Mowbray pork pie. Anybody can make a pie, anybody can make a pork pie but a Melton Mowbray pork pie is particularly special. That's why it's protected and it will be protected under British law as and when we are out of the European Union. It will always have the reverence and standing that it deserves.
Stephen has been a driving force behind both the Melton Mowbray Pork Pie and establishing Melton's place nationally as 'The Rural Capital of Food'. After 10 years campaigning the Pie was granted protected food status (PGI) by the EU with Stephen as Treasurer of the Association. His appearances on national TV and elsewhere has pushed the Pie to the forefront of the UK's food heritage. Not to forget he played a lead role in the establishment of the nationally popular British Pie Awards.
Dr Matthew O'Callaghan, chairman of Melton Mowbray Pork Pie Association and Melton Mowbray Food Partnership, was keen to pay tribute to Stephen's achievements.
He said: "Stephen has equally played a major role in Melton's tourism development with his support of the food festival and other events.
"Tourism now contributes over £100million to Melton's economy, largely dependent on our food heritage.
"One of the highlights besides the visit of royalty to the borough and the pie shop, in particular, must have been the visit of the club 'Chef de Chefs' to Melton comprising of the world's leading chefs including the chef to HM the Queen, President Obama's chef, the chefs to the French President, King of Sweden, President of China, etc.
"While in some sense he will be missed 'full time', we'll still be lucky in having his continued support on a part-time basis in the years to come."
Celebrity chef Rachel Green gives a food prep demonstration at the food festival in Melton back in 2009 while being interviewed by 'Mr Pork Pie' Stephen Hallam, of Dickinson and Morris PHOTO: Tim Williams EMN-201222-081850001
Stephen Hallam of Dickinson and Morris with Melton Mowbray Porkpies EMN-201222-081956001