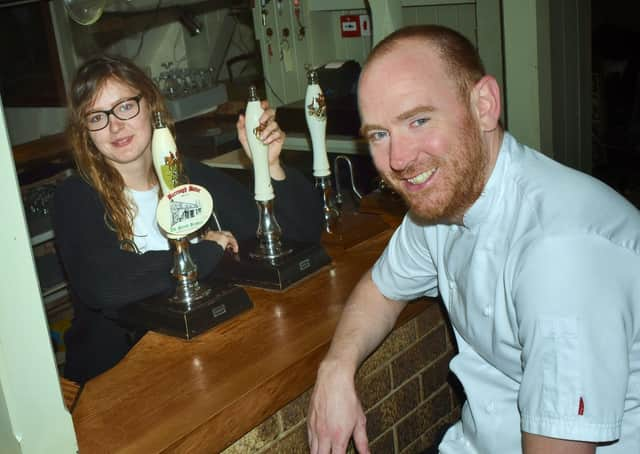 Dom Clarke, with partner Antonia Nelmes, at The Stag and Hounds pub at Burrough on the Hill EMN-210329-123148001
We can reveal that hospitality businesses will see amounts ranging from £2,000 to £5,000 dropping into their bank accounts from tomorrow (Tuesday).
The money each pub or restaurant receives will be dependant on the rateable value of their premises and the number of staff employed.
Melton Borough Council is allocating the support grants from a new discretionary funding pot totalling £195,000, with businesses able to serve food and drink outdoors from April 12 and indoors from May 17.
The sector has been left reeling by lockdown restrictions requiring them to close for long periods over the last year to help limit further spread of coronavirus.
Some have diversified into providing deliveries and takeaways for customers but businesses have been denied the traditional big takings they receive over Christmas and the upcoming Easter holidays.
Councillor Leigh Higgins, who has been working with the local hospitality sector to provide support, told the Melton Times: "The sector is an important employer for the area, and jobs are key to our recovery and we are standing by owners and employees.
"This grant has in mind the costs to ensure pubs and restaurants can open outdoors to help offset the expense of marquees and ordering stock from April 12.
"Also it will help this sector recover some of the lost revenue for missing key trading periods, such as Easter.
"Let it be said we are backing our pubs and communities to be able to bounce back, and certainly not close to make way for speculators which will be resisted."
The Stag and Hounds, at Burrough on the Hill - one of only 16 UK businesses to be awarded a prestigious Michelin Bib Gourmand in January - is one of the hospitality venues which will be benefit from the new funding.
Dom Clarke, the pub's Chef Patron, said: "It means we can invest in more staff, cover the cost of a new marquee and help us open with a bit more confidence.
"Melton Borough Council have been incredibly supportive and this is another reassuring move on their part."
The British Beer and Pub Association (BBPA) welcomed the cash support for local businesses and said it hopes other local authorities across the country will consider following suit.
Emma McClarkin, the organisation's CEO, said: "This boost for pubs from Melton Borough Council is most welcome and we hope other councils will consider using their discretionary funds to recognise pubs have been amongst the most impacted businesses throughout this pandemic.
"Our pubs play an essential part in our economy and community.
"These grants will help pubs gearing up for reopening on April 12 and May 17 and will help set them on the road to recovery to secure them as community assets for the future."
Hospitality and leisure businesses will be able to apply to the council for further funding next month in the shape of 'restart grants'.
They can get between £8,000 and £18,000 depending on their rateable values.
The council has previously announced it will be allocating a £100,000 Rural Diversification Grant scheme in April, from which rural pubs can apply to use to expand their offer, such as providing overnight accommodation or opening up a shop.
Planning regulations for temporary outdoors structures were relaxed in the borough last year to help hospitality venues serve customers safely during the pandemic - it is believed this was the first area of the country where such freedom was given.