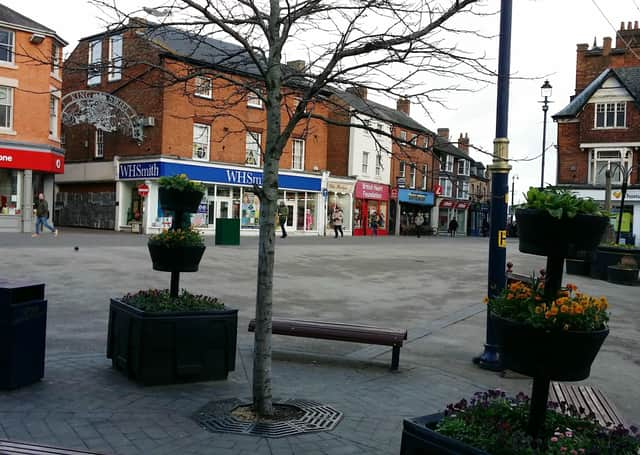 Melton Market Place EMN-201004-130022001
Shops and other businesses have also been closed and public events cancelled.
The Government is paying a proportion of the wages for many but for business owners it remains a worrying time.
The longer the crisis continues the greater the threat to their business, in many cases.
Councillor Leigh Higgins, deputy leader of Melton Borough Council EMN-201004-130119001
This week we've been putting some of the concerns of business owners to Melton Borough Council to establish just what funding and support is available to them.
The council has launched a Business Support Hub on its website to include a range of resources and guidance to ensure businesses are supported and are able to act quickly as the situation unfolds.
Deputy leader of the council, Councillor Leigh Higgins, who is also responsible for growth and properity, told the Melton Times this week: "I know these are very challenging and worrying times for businesses and some businesses are having to make staff redundant.
"I would ask them to stop until they have considered what help is available.
Nottingham Street in Melton Mowbray town centre EMN-201004-130057001
"It is clear the government would prefer businesses to furlough staff, and will pay 80 per cent towards this.
"Businesses can also do the same for those staff members who were on zero hours contracts as it's based on what they previously earned."
Councillor Higgins added: "Here at Melton Borough Council we are keen to support all businesses during this tough time.
"Our officers are working extremely hard to support businesses in the area and have supported over 500 businesses to date, so I would encourage all businesses to use this resource where possible.
"As part of this work, council officers are working to deliver the flagship government grant scheme for those who are eligible.
"I encourage all businesses in Melton to reach out to us if you are in need of support and to actively use the support provided such as furloughing, where practicable, as the more people who have the security of an income through the lockdown period the better placed the Melton economy is to bounce back."
Here are questions for the council posed by residents:
Q In these very uncertain times why have the grants taken so long to come through? The government has told the local councils to push this through. I filled it in on Tuesday evening and as of Friday there had been no response. I have heard other businesses in other locations are having theirs passed on (Jason Sharman, owner of Simply Hair at 1 Windsor Street)?
Melton Borough Council: The council has already paid over £1.1m to businesses in Melton that have been in touch with us.
We are processing grants as quickly as possible.
To give an idea of scale we have received over 300 grants forms in four days, we have a team of four people working full time on undertaking the appropriate validation checks, especially in those cases where we don't hold any account information.
We are processing grants as quickly as possible but we must ensure the right businesses, such as you, get the grant and minimise the risk of both fraud and those who are not entitled to the grant receiving it. We expect to have paid out grants to 90 per cent of businesses within the next four weeks
Q We employ five full-time and up to four part time staff across both businesses.
The minibus business is only six months old and has seen all of its bookings cancelled.
We sell buses and coaches nationally, selling over 150 per year, with the main selling season beginning in March. Clearly now this will not be the case as almost every coach is being parked up in the country.
The last thing operators are looking to do is invest in new rolling stock. The problem that faces us, is when this might be?
We have managed to get holiday payments on the stocking fund and are furloughing our staff in order to try and keep the business operating on the other side of this current crisis.
We are based at PERA, therefore not rateable, and it would seem little or no option for assistance. Any help or assistance would be gratefully received (John Hill, Managing Director John Hill Coach Sales & Services Ltd, Melton)?
MBC: This is a unfortunate example of one of many businesses within Melton that are not eligible for the funding as their premises do not have a specific rateable value attached to it.
Melton Borough Council is working with partners, such as MP Alicia Kearns, and actively lobbying and informing government of the issues of businesses falling in between the gaps, to highlight their plight.
There is other non-grant based assistance available through central government such as access to government-backed loans where the government will make a Business Interruption Payment to cover the first 12 months of payments and any lender-levied charges and there is also support through HMRC.
Further information on these schemes is accessible through the dedicated www.businesssupport.gov.uk website.
Q I am concerned about the future of my business. What kind of advice can I get from the council and who do I contact in the first instance?
MBC: We have created a Covid-19 Business Support Hub on our website www.melton.gov.uk/here4melton/business which contains a wealth of information to support businesses in the borough at this difficult time.
We would encourage any businesses who are struggling with the recent circumstances to email the council's Regeneration team via [email protected] with any queries and they will get back to you as soon as they are able to.
Q: I am a pub landlord in the borough. What services am I still allowed to continue with. For instance, can I offer takeaways and I am also able to deliver takeaways?
MBC: If a pub/business is already registered as a food business for preparation and service of food and has undergone the appropriate safety checks by Environmental Health, then the business could offer a takeaway service and also deliver during this current situation.
If you are unsure please contact our Environmental Health team on [email protected] via email.
Q: Will Melton Borough Council be setting up a locally funded grant scheme for those businesses that have fallen between the cracks of the government's existing Small Business Grant scheme?
MBC: We absolutely appreciate the seriousness of the situation that many businesses currently find themselves in and are actively working towards a solution that helps those businesses whose premises do not have a rateable value or are otherwise unable to access the support being provided by the government's schemes
Alongside partners, we are lobbying central government to put the case forward on behalf of those businesses to ensure they are aware of those who are currently not being given access to a grant lifeline to get them through these difficult times.
Q: What support is there when it comes to events which have been postponed or cancelled? I know that a few have already suffered this fate and there's uncertainty with other events in the calendar as well. Can they claim any money back for bookings, venue hires, etc (Kelly Davies)?
MBC: At this time there are no grants available for specific events that have had to be cancelled, delayed or postponed as a result of the impact of COVID-19.
We know venues and suppliers want to support their customers and we encourage those involved to discuss options together and to get in touch with us to see what help is available via our dedicated Covid-19 Business Support Hub.
l Go online to www.melton.gov.uk/here4melton/business to access the council's Covid-19 Business Support Hub on its website.