Final weeks of 40-year-old Melton music shop
It's been a music shop for 40 years but the current owner of Icon UK is preparing to close for good with all the instruments being sold off for discounted prices.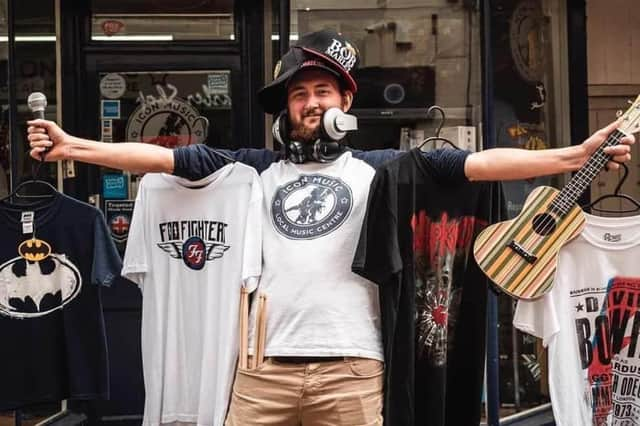 The King Street store started out as Mel-Tone under the ownership of Tony Rifugiato and one of his staff members was Tom Griggs, who took over the business and renamed it Icon Music 11 years ago.
The shop thrived but in recent years it has suffered from a drastically reduced footfall as customers began switching to online shopping.
Back in May we reported that Tom – who rebranded the store as Icon UK to reflect increasing sales of music merchandise – has decided to move his business online.
And he has now announced that the shop will close after Christmas so he can concentrate on selling purely merchandise and gifts from his upgraded website.
Tom told the Melton Times: "All instruments have to go in our closing down sale.
"We gave guitars, particularly acoustic guitars, ukuleles, keyboards, guitar amplifiers and pedals.
"There are plenty of bargains to be had.
"People can come and have a look round the shop.
"If they see something that hasn't got a price on it they can offer me a price and negotiate a deal."
Tom refuses to blame high rents and rates, as some Melton businesses have recently cited for their closures, and he says his landlords have charged him a very reasonable rent.
Rising bills have had a major impact on the viability of the shop and the Covid pandemic has accelerated a move towards online sales, he said.
Tom has invested the government grant support he got during the pandemic into improving his website to facilitate the move to an online model.
He will work from home in future but does intend to continue offering drumming lessons.
A collection point will also be provided in Melton for customers who buy products from the website.
Tom added: "I've been around here for 25 years so it will be sad day when I lock the door for the last time.
"I've moved on in my head but there will be an emotional attachment when I start walking past the place and it is no longer my shop."