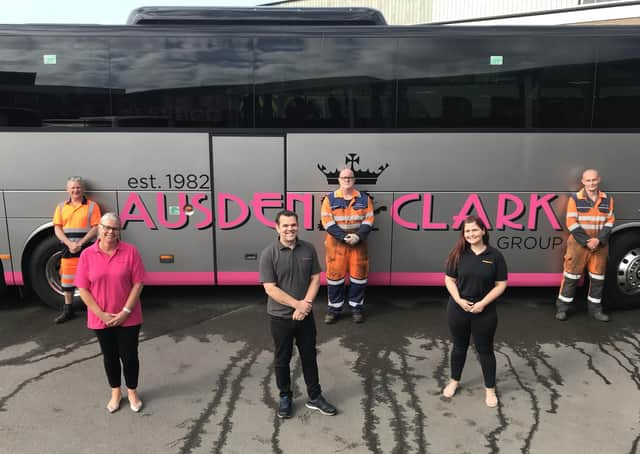 Transport manager Emma Irwin-Nunn pictured this week with Ausden Clark colleagues Adam Frost and Sharon Mallon, with depot mechanics standing behind them EMN-200527-140014001
Ausden Clark, and Belgrave Coaches say the industry is reeling from not being included in the financial assistance for other leisure-related businesses.
Most or all of their fleets have not been used since March with the closure of schools and the cancellation of events and holidays.
Emma Irwin-Nunn, who is transport manager for Cossington-based Belgrave Coaches, told the Melton Times: "On March 24, we temporarily ceased all operations and it has saddened me to put signs in the windows of our coaches saying 'SORN Do Not Use'.
"We normally transport students to both secondary schools in Melton, Great Dalby Primary School and Brooksby Melton College.
"We also run coaches for tourists to Melton and places like Twinlakes, but nowhere is open at present.
"The traffic commissioner requires us by law to have a financial standing of £56,950 to maintain our business and we have no income coming in after July so it is crucial we get some support.
"Some operators are in a worse situation than we are and have zero income now and have to maintain their own amount."
The collapse in the last week of travel company Specialist Leisure Group, which included coach holiday brands Shearings and National Holidays, is an indication of how badly hit her industry has been, Emma said.
Grants of between £10,000 and £25,000 have been paid out to other businesses in the leisure sector but coach companies remain ineligible.
Emma has lobbied Leicestershire MPs and would like to see alternative funding provided for her industry to ensure operators can continue to support schools and tourism when lockdown restrictions are fully lifted.
She added: "While the support offered to leisure businesses via business rates relief and grants would not cover the cost our business is facing at the moment, it would help provide my business with a much-needed lifeline."