Big winning charity bid for Melton distiller's crystal gin bottle
The Melton distiller of a stunning bottle of gin encrusted with thousands of crystals was 'very pleased' to see it fetch £1,275 at a charity auction.
Tuesday, 16th March 2021, 1:31 pm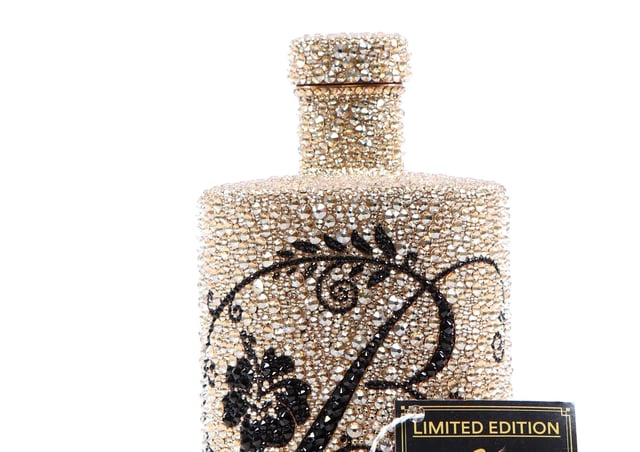 The crystal-encrusted bottle commissioned by Brentingby Gin to raise money for charity EMN-210316-131813001
Brentingby Gin - the borough's first gin-making business when it started up two-and-a-half years ago - created the luxury bottle to raise funds for the local Matt Hampson Foundation and NHS Charities Together.
It is filled with the company's popular Brentingby London Dry gin, produced at the small distillery in the village its name is derived from.
Bidding started last Thursday on an online auction and the winning offer was received late last night (Monday).
Bruce Midgley with a bottle of gin produced at his Brentingby Gin distillery near Melton EMN-210316-101003001
Founder Bruce Midgely told the Melton Times: "We never knew what it would fetch because gin is not quite like Whiskey but we were very pleased with the amount.
"I mean £1,275 is probably over what we thought we would get.
"It really is a stunning bottle and maybe next time we will look to make a diamond-encrusted one."
The 700ml bottle was created elsewhere before arriving for a short while at the distillery prior to the auction.
"When it arrived we had to handle it with gloves because it's got between 5 and 6,000 Swarovski crystals on it and then we filled it and sealed it and sent it straight off," said Bruce.
The company has already been making gins to raise money for Matt Hampson's foundation, the Burrough-on-the-Hill based organisation which supports people with life-changing sports injuries.
Bruce, who played with Matt in the Leicester Tigers academy before his catastrophic injury which left him paralysed, plans to run the London Marathon for his cause in October.
It is a big year for Brentingby Gin with the business set to relocate in June to a unit at Melton Livestock Market, where it is hoped they will also become the first midlands producer of whiskey.
They will join Round Corner Brewing on the site with plans afoot to create a wider food and drink hub to celebrate and consolidate the area's reputation as a rural capital for production.
Meanwhile, the business, which exports to 12 countries, is hoping the immiment end of lockdown will boost home trade once again
Bruce, who diversified into making hand sanitiser during the pandemic to help stay afloat, said: "It's very tough at the moment, because of coronavirus there is no hospitality open and we were planning to be in the new distillery last year, in November time.
"We lost a lot of our trade so it brought everything to a standstill.
"We had to try and survive on a third of what we had done.
"I'm not the only person struggling but we used to bring in a lot through our gin schools and doing our tastings but with people not being able to travel that was the end of that."