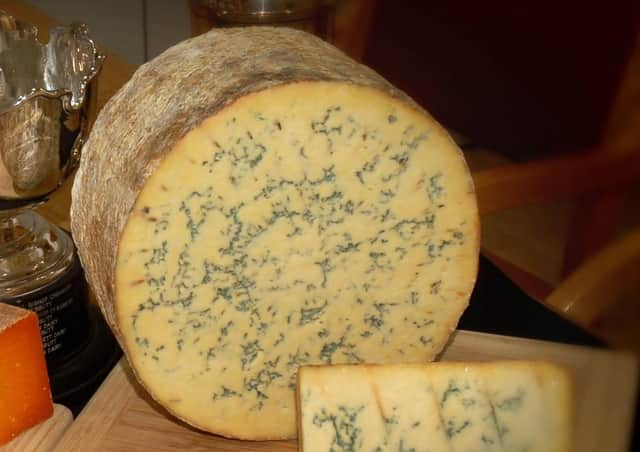 One of Long Clawson Dairy's champion cheeses from the 2018 Melton Fatstock Show, Blue Stilton EMN-200312-160232001
Figures released today by the Stilton Cheese Makers Association (SCMA), which represents the UK's Stilton producers, show that sales of the iconic cheese are 16 per cent down this year due to the coronavirus crisis and the resulting disruption to the country's hospitality and events industry.
And one of its members - Webster's Dairy, of Saxelbye - has now closed with no indication of whether it will resume in future.
The small business, run from a row of 17th century cottages, has been run in recent years by sisters Margaret and Helen Callow, using milk from a nearby farm.
Saxelbye-based Webster's Dairy, which has ceased production of Stilton cheese EMN-200312-162749001
It has a rich history, having been started in the 1880s by the Webster sisters and then passing into the hands of twin brothers before the Callow sisters took it on.
The owners were unavailable for comment today (Thursday) but the company accounts, recently released, allude to the negative effects on the business wrought by the ongoing pandemic.
The accounts document submitted for Webster's states the dairy ceased production 'following the collapse of the Stilton market as a result of Covid 19' and that 'the directors are aware of certain material uncertainties which may cause doubt on the company's ability to continue as a going concern'.
They also report that directors are attempting to find new owners for the business.
Grading the cheese in the maturation room at Long Clawson Dairy EMN-200312-160730001
SCMA, which says Webster's Dairy has not formally withdrawn from the association and that it was unaware about the latest situation with the business, say this Christmas is even more important to the industry than it normally is.
Much more Stilton is traditionally sold over the festive season than any other time of the year and the association is confident that will be the case again this year following the results of a survey it conducted.
It showed that two-thirds (63 per cent) of consumers are more likely to buy British to support producers this Christmas and that 65 per cent are also likely to support local businesses by buying produce and gifts from suppliers near them.
The findings also showed that over half (52 per cent) of respondents said they prefer to buy British cheese instead of French or Italian.
Saxelbye-based Webster's Dairy, which has ceased production of Stilton cheese EMN-200312-162759001
Almost half of Brits (46 per cent) plan to spend more on cheese over Christmas than compared to normal, with 40 per cent saying the same and just nine per cent saying they won't buy cheese.
Commenting on the findings, Robin Skailes, chair of the SCMA and director of Cropwell Bishop Creamery, said: "Christmas is a hugely important sales period for Stilton and other British producers.
"We hope shoppers will buy British this year after a challenging 10 months since the pandemic began and we can all look ahead to a more prosperous 2021."
Reacting to the news of Webster's ceasing production, Matthew O'Callaghan, organiser of Melton's food events and chair of Melton Mowbray Food Partnership, said: "This is very sad news indeed.
Cheeses are turned daily during the maturation stage at Long Clawson Dairy EMN-200312-160710001
"Over 150 years Websters acquired a reputation for producing a quality, distinctive Stilton that was available in some of the best retailers in the country.
"This leaves just five Stilton cheesemakers left; two in the borough, two in Nottinghamshire and one in Derbyshire.
"Stilton producers, like many cheese-makers, have had a bad year during the pandemic.
"If Melton is to retain its national reputation for quality food then I hope people will support local producers and in particular our Stilton cheese-makers.
Stilton is the UK's most popular blue cheese and was first written about by Daniel Defoe in the early 18th century.
It is the only cheese in the UK with a certificated trademark to protect its British heritage, so it can only be made following a time-honoured tradition and with a short radius around Melton.
It was the first British cheese to be awarded the EU protected designation of origin status (PDO) giving it the same status as Champagne.
The government is launching a replacement scheme when the UK leaves the EU on January 1, which will continue protecting its geographical origin.
The SCMA, which was founded in 1936, represents the UK's Stilton producers.
Only a small number of dairies are licenced to produce both Blue Stilton and White Stilton cheese.
These are: Colston Bassett Dairy, Cropwell Bishop Creamery, Hartington Creamery, Long Clawson Dairy, Tuxford & Tebbutt Creamery, Shirevale and Webster's Dairy, altough this latter business is currently closed.