Enjoy a pancake breakfast as part of Fairtrade Fortnight
A pancake breakfast will be served at Melton's Sage Cross Methodist Church later this month as part of the Fairtrade Fortnight celebrations.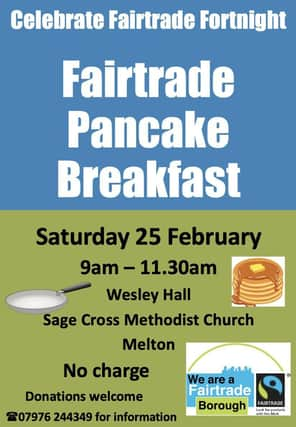 The event, on Saturday February 25, from 9am to 11.30am, is free of charge but donations are invited in support of Fairtrade.
To accompany your pancake, there will be a choice of Fairtrade jams, spreads and bananas, as well as breakfast muffins and flapjack, tea, coffee and hot chocolate.
Melton Mowbray Fairtrade Steering Group is hosting the pancake breakfast following the success of the event over previous years.
Melton has been a Fairtrade borough since 2015, supporting local businesses and community groups to promote and use fairly traded products.
Fairtrade supporters say it is a simple way to make a difference to the lives of the people who grow the things we love and help protect the planet.
They are hoping as many local people join them as possible to enjoy a tasty pancake and a cuppa.