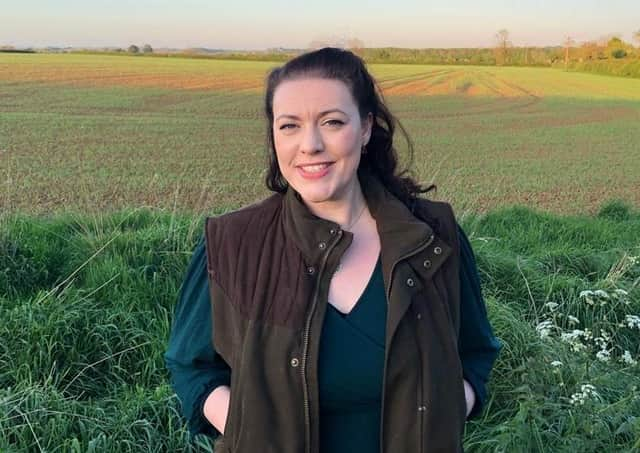 Rutland and Melton MP, Alicia Kearns EMN-200311-091900001
I was moved to see our communities come together this week for Remembrance Sunday – whether it be by displaying poppies in windows or attending the memorial event in Melton in a socially distant manner – to remember and respect the sacrifices of our servicemen and women who gave their lives to protect our values and way of life.
Melton has a proud armed forces community and many residents have ancestors who laid down their lives for our country. It was a great honour to mark my first Remembrance Sunday as Melton's MP by laying a wreath in Melton's Memorial Gardens in thanks for their bravery and the freedoms they won for us.
Our area is also proudly the rural capital of food, and I wish to touch briefly on an exciting development that I've worked hard to secure; the UK's new Geographical Indications (GI) scheme.
In February, I launched the All-Party Parliamentary Group (APPG) on Geographically Protected Foods to ensure there was a strong and concerted voice for our delicacies in Parliament.
I've been lobbying the Government to introduce a robust and inclusive mechanism to protect the regional authenticity of local foods such as Melton Mowbray pork pies and Stilton cheese - which are currently protected under the European Union's GI scheme – long after the transition period. The Government has now announced our new independent GI scheme, which will see all UK products registered under the EU's scheme granted a special status to mark out their authenticity and origin from January 1, 2021.
I'm delighted with the role of my APPG in shaping these protections and ensuring important local foods are at the heart of trade negotiations, as we saw with the new UK-Japan deal which will protect 70 GIs. The trade secretary even presented Stilton cheese to the Japanese foreign minister to mark the signing of this historic deal!
As we prepare to become an independent trading nation once more, I've been working with my colleagues to ensure our farmers can fully reap the benefits our new status will afford them. Last week, the Government agreed an amendment to the Agriculture Bill, placing a duty on the Government to report to Parliament on whether, or to what extent, commitments in new free trade deals relating to agricultural goods are consistent with maintaining UK levels of statutory protection in relation to human, animal and plant life and health; animal welfare; and environmental protection. On top of this, the Trade and Agriculture Commission's report on the impact on animal welfare and agriculture of each new free trade deal will be laid before Parliament at least 21 days before any treaties.
Together, these measures provide Parliamentarians with two additional opportunities to scrutinise the impact of any future free trade agreements on animal welfare and UK standards.
Following my last article, which focussed on the free school meals vote, residents will know I was clear that we need to deliver support to the most vulnerable in the right way. The Government has now extended the Emergency Food Support programme over winter and Easter. This will see £170 million of support delivered through the model I laid out in my last article: Councils, as opposed to schools, targeting support to the most in need, and providing support with not just food, but also heating bills, council bills, white goods and more.
I've also been continuing my work to secure a comprehensive plan to ensure the sustainability of healthcare provision in Melton in light of the proposed changes to the maternity services at St Mary's. Last month, I wrote to the CCG asking how they envision our communities benefitting from the proposed changes – which seemed to only strip our hospital of services.
The CCG has now responded and assured me that the option of a stand-alone midwifery-led unit remains, and some services, such as antenatal, postnatal and breastfeeding support will continue to be delivered locally. I am currently seeking the detail on what form this postnatal care will take, and what wider plans for the future of our hospital the CCG has. I urge residents to respond to the consultation and attend the CCG's workshop events.
Since my last column, I'm delighted to report a victory in my campaign to ensure all pregnant women have partners with them at scans and all stages of labour.
As residents may know, I launched the campaign after hearing from residents that they were not all receiving the same care as hospitals operated different rules, despite Government guidance to allow partners.
The prime minister has now announced that the new 15-minute Covid tests will be prioritised in hospitals 
for maternity, cancer, end-of-life and paediatric settings.
I'm also relieved that once national lockdown was announced, I fought for children under school age, and those with severe disabilities requiring full-time care, to be excluded from the two person meeting outside rules, to ensure single parents face less isolation than during the spring lockdown.
It was with sadness that I voted for a time-limited winter lockdown. Thank you to the almost 700 residents who responded to my survey where 60 per cent supported the national lockdown, especially Meltonians.
Every day, I am proud to represent people who have worked so hard to keep the virus at bay and to protect our communities, and I would like to thank you for the commitment you are demonstrating to the new regulations.