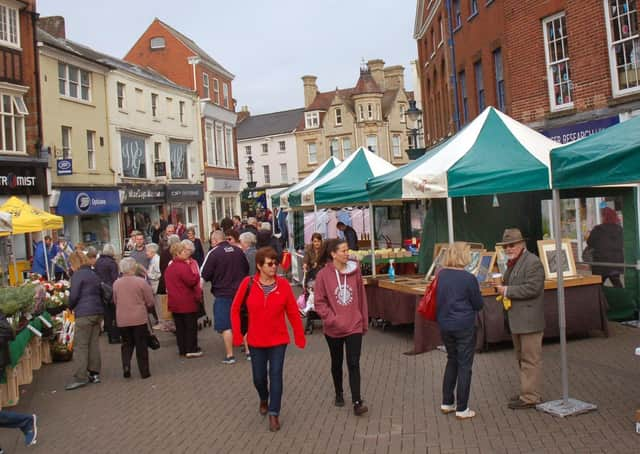 Melton's new market stalls in place for the Easter Saturday launch event EMN-210704-131243001
Not only will all of the town centre shops be open again since being closed in early January to limit further spread of the virus but pubs, cafes and restaurants will be able to serve customers in outdoor spaces.
And there will also be a full street market again – stalls have been limited to only those selling food and essential items – plus traders will also be operating again at the livestock market.
Melton Town Estate operates the street market and its town bailiff, Billy Boulding, confirmed: "The street market will be back to normal next week which we are very pleased about."
The livestock market has continued to operate for animal sales under strict social distancing regulations and only farmers have been allowed in since lockdown began.
The farmers' market has kept going and from Tuesday, stallholders selling antiques, food and vintage items will be returning to trade.
A spokesperson said: "While essential businesses in the farmers market have continued to trade on site throughout 2021, the return of more than 50 tables of antiques and vintage and our other general market stalls will be a welcome addition to the site as we target a return to a more normal way of life."
A new trader starting up will be Stephen Evans selling his wares from his Simply Chocolate stall.
Covid protocols will be in place, including hand sanitising stations, and visitors will be required to wear face coverings to keep everyone safe on the site.
In the interest of safety, the sheep centre and livestock areas will continue to be out of bounds to the public in order for the sales to go ahead as safely as possible – although members of the public will be able to watch proceedings from the viewing gallery from next week.
The Sunday market and car boot sales will also return at the market from April 18.