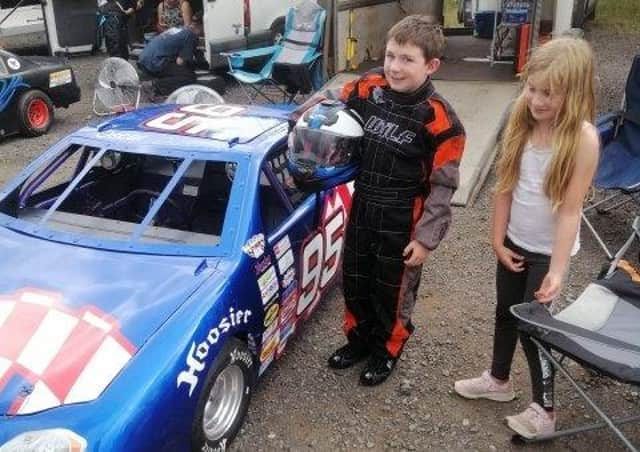 Oscar Dustan (9) with his racing car and sister Anna-May EMN-200814-162651001
The nine-year-old, who lives at Asfordby, endured three years of intense hospital treatment after being diagnosed with Acute Myeloid Leukaemia in the summer of 2013.
Parents Ryan and Tania feared the worst at some stages of their son's illness and his dad promised him he would one day race cars on a track which he had always wanted to do.
Thankfully Oscar beat the disease, after having a bone marrow transplant, and he was able to ring the bell at Sheffield Hospital to the joy of his family.
Oscar Dustan (9) with his racing car and sister Anna-May EMN-200814-162641001
And recently he was able to make his race car dream come true by taking part in the Junior American Cup Car series at Birmingham.
Dad Ryan told the Melton Times: "I was in tears when he did his first practice drive and so was his mum and my dad as well.
"I had promised him when he was ill that he would one day be a racing driver and it is fantastic that he's been able to do it.
"It was brilliant to see him out there behind the wheel and he has a real talent for it."
Oscar Dustan with mum Tania, dad Ryan and sister Anna-May pictured shortly after he got the all-clear from leukaemia EMN-200814-171837001
Oscar, a pupil at Asfordby Captain's Close School, races at up to 50mph in a scaled down version of a normal road car, which is operated like a go-kart and has a protective cage inside to protect the young drivers.
His car sports the number 95 as a homage to Lightning McQueen, one of the stars of his favourite movies, the animated Disney Pixar classic 'Cars'.
The whole family go along to watch him race and sister, Anna-May, wears her own overalls as part of his pit crew.
Ryan, who is a mechanic on the adult American Cup Car event, adds his expertise to prepare the vehicle for race day.
Oscar Dustan, aged 3, of Asfordby, shortly after his bone marrow transplant in 2014 EMN-200814-171847001
He said: "Oscar has done really well so far, he got a 6th, 4th and a 6th at the latest round two weeks ago and he will be racing again at the end of the month."
Oscar, who is a previous winner of the Child of Courage award in the Melton Times Community Awards, developed his passion for racing on little 'ride-on' cars around the hospital wards during his treatment, as well as playing racing games on the computers.
An online fundraising page is aiming to raise £2,500 to support Oscar's fledgling racing career, to help pay for items such as tyres and racing fees, and more than £1,500 has already been raised.
Ryan added: "People have been very generous to give money to help his racing.
Oscar Dustan (9) with his racing car and sister Anna-May EMN-200814-162631001
"He's a big fan of Formula One and Lewis Hamilton and it's great that he's had this chance to race himself."
Family friend, Annya Watson, who is organising the Go Fund Me fundraising page, said: "Local businesses have donated prizes for a raffle and the whole community has been so generous to help Oscar achieve his dream."
Go to www.gofundme.com/f/help-oscar-with-his-dream if you would like to donate money to Oscar's racing.