Then and now - Waltham on the Wolds High Street
An empty sandy main street vanishes curving in the winter mist. All the old houses and buildings are still there, writes Estelle Slegers Helsen.
Thursday, 18th March 2021, 7:46 am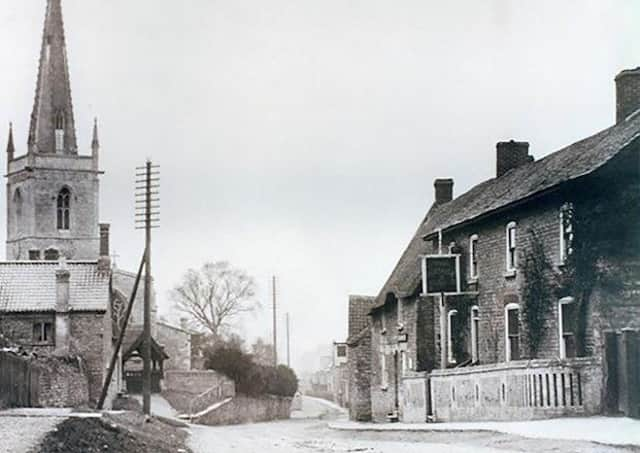 Waltham on the Wolds Then - High Street in the early 1900s
Modern features are added: some cars, a satellite dish, and a rooftop antenna.
The Church of St Mary Magdelene, with 13th and 14th century Norman origins, rises as a backdrop. A timber-framed lychgate gives access to the churchyard. The house on the left, in front of the church, next to the telegraph pole, was the home of Dennis Hurton.
"He was the electrical appliance repairman and local historian," says villager Amy Louise Cox. "Dennis had a little repair shop further up and was one of the many local traders in the 1900s."
Waltham on the Wolds - High Street as it looks now
On the right side of the street, three pub signs can be seen. At the front, The George & Dragon, now the house with the roses, remained an inn until the early 1970s.
"My parents were the landlords when I was born in 1966," says Kim Sorsky, "and they ran the pub until the late 1960s."
Amy Louise's father, Mike Smith, recalls: "The pub was still open in the 1970s. I had my 21st there in 1971. When I started drinking, a pint of Brown and Mild was 1s 9d."
"I read about a notorious occasion when the Belvoir Hunt hunted down a chimney-climbing fox there," adds Richard Snodin of the local history group, "described in the book Fox-Hunting from Shire to Shire (1912) by Cuthbert Bradley."
Further down was The Wheel, which closed in the early 1950s, and The Granby's Head, on the corner with the A607 Melton Road.
About 100 years ago 12 inns and alehouses flourished. Now there is one, The Royal Horseshoes.
The thatched house, in between the pubs, is the old Post Office.
"Inside, the stamp cupboard is still installed in the wall," says Sally Bootle Topley, the daughter of the house owner.
Estelle Slegers Helsen is a heritage addict and a photographer. Each week she visits one of the Melton Borough villages, armed with an old street view picture and her camera. For the Travel in Time series, she takes a new picture and tells the tales. Visit www.travelintime.uk for all the stories.