Tributes for prolific Melton historian who has died aged 86
Few people documented the history of Melton Mowbray and the wider borough more than Trevor Hickman, who has passed away aged 86.
Tuesday, 28th July 2020, 6:06 pm
Updated
Wednesday, 29th July 2020, 8:31 am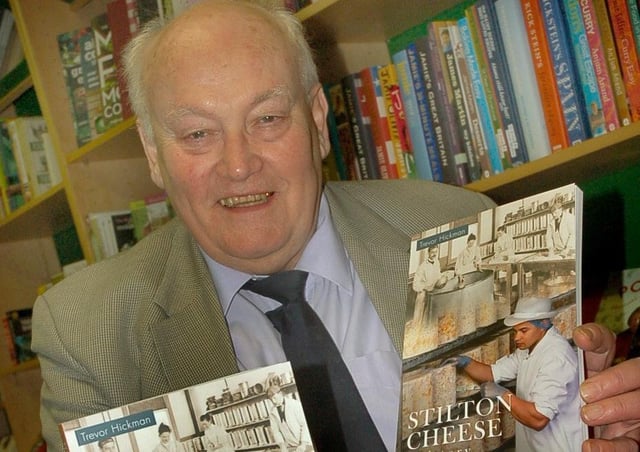 Trevor Hickman signs copies of his history of Stilton Cheese book back in 2012 at Melton Bookshop PHOTO: Tim Williams EMN-200727-180448001
Trevor wrote more than 20 books, including definitive works on the heritage of this area's iconic foods, Melton pork pies and Stilton cheese.
He is also credited with helping to draw up the boundaries within which these products can only be made through their Protected Geographical Indicator status with the EU.
And Trevor will also be remembered for being a devoted family man, a college lecturer, fundraiser and a champion of the community, particularly in Wymondham, where he lived for virtually all of his life.
Trevor Hickman pictured during his National Service EMN-200728-162240001
His son, Ian, told the Melton Times: "Dad loved the Melton area and anything to do with Wymondham.
"He would do anything for his family, like helping out financially or taking us out for dinner.
"He was also very well respected and we have had getting on for 100 cards since he passed away."
Born in Wymondham in the mid-1930s, Trevor attended the local village school, when it was based in Church Lane.
The late Trevor Hickman with his wfe, Pam EMN-200728-162150001
He began a book-binding apprenticeship aged 15, upon leaving school, but that was interupted by him being called up for National Service threee years later.
Trevor was involved in the Suez Crisis in the Middle East and his service with the Leicestershire Regiment included spells as a military policeman and a personal bodyguard.
After completing his service with the army, he returned to his book-binding career and worked for many year at Warners, which was based in Melton town centre above where Greenwoods men's clothes shop used to be.
Trevor married Pam, who is now 87, at Melton's St Mary's Church - the couple would have celebrated their 63rd wedding anniversary on Saturday.
Wymondham author, Trevor Hickman, pictured in 2009 with his book on historic cheeses. Photo: Oliver SM020609_018ow.jpg EMN-200727-180920001
Ian said: "Mum lived in Freeby and she would have been on the bus route from Wymondham when he went to work each day.
"They received a card from the Queen to mark their 60th anniversary and he was chuffed with that."
Trevor eventually became a lecturer in book-binding at Leicester College of Art and did that job for 34 years.
He retired aged 57 and began another career as an author, chronicling the history of the county.
As well as his books on pork pies and Stilton cheese, he published works packed with old photos detailing the heritage of nearby towns such as Oakham, Uppingham, Loughborough, Market Harborough and, of course, Melton.
"He was always interested in Leicestershire," said Ian.
"He loved history and enjoyed writing well over 20 books.
"Dad also collected loads of old postcards from the county and a lot of these were used in his books."
Trevor served as chairman of Wymondham and Edmonthorpe Parish Council and was a tireless fundraiser, with Pam, for causes in his home village or more than half-a-century.
Their latest project was raising money to restore the gravestone of Samuel Pears, a homeless man who is buried in the village graveyard.
It bears an inscription of a poignant poem.
Family members were with Trevor when he passed away on July 9 - his final moments were in the house where he was born.
Ian added: "It wasn't expected but thankfully he didn't suffer.
"One of his ambitions was to die in the bedroom where he was born and he was just a few yards away when he went."
One of his major legacies is the important input he had in protecting the heritage and brand of Melton's iconic foods which has helped establish the borough as the rural capital of food.
Matthew O'Callaghan, chair of the Melton Mowbray Food Partnership and the UK Protected Food Names Association, said: "Trevor's knowledge of local history was of great importance in fixing the boundaries of the area for the protection of the Melton Mowbray Pork Pie and in assisting in the defence of Stilton Cheese to the Melton area."
A funeral service will be held at Wymondham Church, at 10.30am, on August 5.
It will be limited to 30 mourners, due to coronavirus restrictions, but friends and former colleagues are invited to pay their respects by standing in Church Lane as the cortege arrives.
Family flowers only are requested with any donations to be made towards the restoration of the Samuel Pears grave.