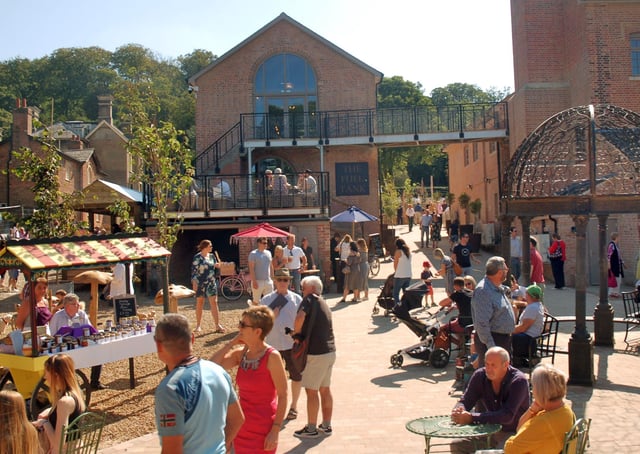 The Engine Yard retail park at Belvoir Castle PHOTO TIM WILLIAMS EMN-211005-155944001
Dozens of unhappy messages were left on the Facebook page for the Engine Yard which features a collection of high end retailers and eateries on the site of former castle workshops.
Visitors to the retail park were angry that they had to pay £3.50 for an hour's parking and others were upset they had been given tickets because signs were not clear enough to warn them they had to pay to park.
The first hour's parking was free but some people said they had to break into meals to pay for parking when that first hour had elapsed.
The Duchess of Rutland, flanked by Susannah Constantine (left) and Elizabeth Hurley, cuts the ribbon at the launch of The Engine Yard retail park at Belvoir Castle in September 2018 EMN-211005-160052001
However, the castle's mall, announced this afternoon (Monday) that it has listened to the many complaints and from Saturday the first two hours will now be free parking at the Engine Yard with visitors able to pay £3.30 for a further two hours, if they wish.
A statement from the Engine Yard reads: "We are aware of the growing concern and frustration regarding parking charges that were recently introduced to the Engine Yard.
"As an estate, we have listened to our customers and therefore reviewed our parking charges.
"The Engine Yard is a mighty little place with a group of wonderful independent businesses that need your support."
The Engine Yard retail park at Belvoir Castle PHOTO TIM WILLIAMS EMN-211005-155955001
The shopping mall added: "New signage will also be implemented across the Engine Yard and Castle car parking areas to avoid any further confusion."
The Engine Yard was opened to great fanfare in September 2018 by supermodel and actress, Elizabeth Hurley, and fashion guru, Susannah Constantine.
Parking charges were brought in only last year so the castle could use the money towards the upkeep of the site, fixing potholes, maintaining signs and fencing, landscaping, daily litter collections, keeping nearby roads safe and maintaining public facilities at the ticket office and retail village.
The statement added: "We plan to extend our parking areas and implement parking bay mapping throughout, which the charges will also go towards.
"Additionally, we are working with Highways to develop better access and roads.
"We of course welcome our local community to enjoy our nearby walks, picnic in the surrounding area and enjoy the wonderful scenery that Belvoir has to offer, but we also want to ensure that car parking space is available at busy times for customers who visit to enjoy all of our facilities and support our independent shops and businesses.
"Importantly, we truly value our local customers that 'pop in' to pick up click and collect orders, weekly essentials, last minute presents, etc, which is why we are offering two hours free parking and only charging after two hours."
Andy Hubbert said he was angered to receive a £100 fine when he didn't realise he had to pay for parking after the free first hour.
He told the Melton Times: "There are folks not realising there was even a charge, like us, others struggling with the machines as you have to park for first hour free, then go back - maybe getting up from your lunch - to pay for a second hour."
Carole Rainbow commented on the Engine Yard's Facebook page: "Been a frequent user of the Engine Yard to meet friends.
"Never realised there was a new parking charge. We all got a fine. Most expensive cup of tea I've ever had."
Another angry comment on the Facebook page came from Zillah Holliday, who said she had spent a lof money in the shops and restaurants.
She posted: "£100 fine down to £60 if paid within two weeks.
"We went back to the car a few times and saw NO parking meter.
"We had paid across the road at the castle car park where the meters were clearly displayed.
"Disgusted, spoilt what was a lovely day."
The Tripadvisor page for the Engine Yard was also buzzing with complaints from angry visitors.
One person posted: "What a rip off. We were totally unaware that we had to pay to park! There is no sign at the entrance of the car park. We would not expect to be charged for visiting these facilities. It was not clear at all."
Another commented: "I chose to visit the Engine Room to celebrate my wife's birthday and cannot believe that I have now been presented with a £100 parking fine for parking in the restaurant car park whilst eating lunch.
"Firstly I did not see any signs of charges or payment meters and no members of staff mentioned parking charges."