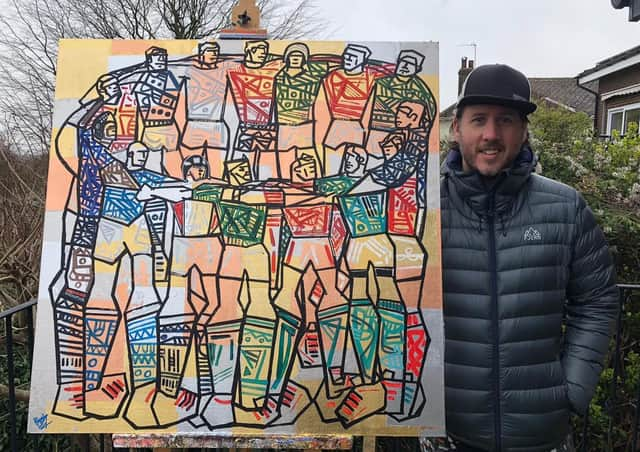 Ben Mosley's painting of Mike Tindall's all-time top Six Nations rugby XI which is being auctioned for the Matt Hampson Foundation EMN-210322-114715001
The Matt Hampson Foundation, which is based at Burrough-on-the-Hill, launched the initiative on March 12 to replace the many fundraising events it could not hold during the ongoing coronavirus pandemic.
Already, more than £50,000 has been bid for the many lots, with starting prices ranging from £200, for a signed caricature print of four Leicester Tigers players, rising up to £7,600, for a VIP day at Ascot races for 10 people.
Founder of the charity, Matt Hampson, said: "Like many in the charity sector, we've had a really tough year which has been made even tougher as we are unable to fundraise through our events.
Matt Hampson with Mike Tindall, patron of the Matt Hampson Foundation EMN-210322-114726001
"It's this income which keeps the charity operating.
"We're hopeful that the auction will enable us to raise enough funds to keep welcoming beneficiaries for physiotherapy, training, mentoring, advice and support and our centre and continue to help them get busy living."
One of the lots is a striking painting of all all-time best Six Nations Rugby Championship team, as selected by former England captain Mike Tindall, who is patron the foundation.
It was painted by official TEAM GB sports painter Ben Mosley and is being auctioned off with a starting price of £5,250.
A beneficiary has a physio workout session at the Matt Hampson Foundation's Get Busy Living Centre EMN-210322-114747001
Follow the charity's Instagram feed, @hambofoundation , to enjoy a time-lapse video of the painting being created.
The pandemic has had a big impact on how the foundation operates although staff at the Burrough-based Get Busy Living Centre have stayed in close online contact with their many beneficiaries.
The centre, which opened three years ago, has had to be closed for long periods of time over the last 12 months but it has been reopened only for physiotherapy with social distancing and Covid safety measures in place.
Some funds have been raised through sales of Hampson's Gin by local distiller Brentingby Gin, which also raised hundreds of pounds for the foundaton last week by auctioning off a crystal-encrusted bottle of gin.
A beneficiary has a physio workout session at the Matt Hampson Foundation's Get Busy Living Centre EMN-210322-114737001
The charity's eBay memorabilia shop has also brought in money and supporters and beneficiaries have also taken on fundraising challenges in recent months.
Go to www.hambosauction.com to see all the lots in the auction and to make a bid for any if you wish to do so before it closes at 10.30pm on Friday.