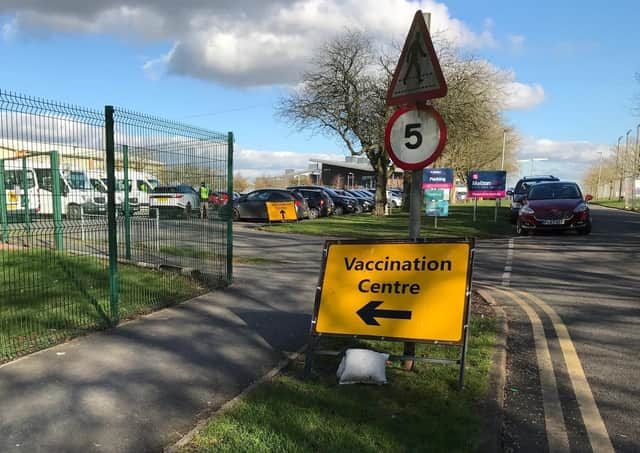 The Melton Covid vaccination centre at Melton Sports Village EMN-210316-181619001
The data shows 4,899 people have now had both jabs at the vaccination centre at Melton Sports Village, in care homes or in their own homes, which represents just under 10 per cent of the population of the borough.
Government figures for the Leicester, Leicestershire and Rutland area as a whole show that 12 per cent of adults have received both doses - up from 7.3 per cent the week before - with 61 per cent having had at least one.
The roll-out has continued apace at the Melton vaccine centre this month with a majority of attendees reporting for their second dose during April.
Dr Fahreen Dhanji, clinical director for the Melton, Syston and Vale Primary Care Network and a GP at the town's Latham House Medical practice, told the Melton Times: "We are on track with the second dose vaccination schedule, inviting patients at 11 to 12 weeks after their first dose with high attendance rates at the vaccination centre.
"In addition, we are also providing the second dose vaccination to care home residents and house-bound patients.
"The focus of the PCN vaccination centre at Melton Sports village in April is on completing second dose vaccinations in line with the government information on the availability of vaccine supply."
In terms of the borough, just under 30,000 people have had their first dose of the vaccine, which equates to 60 per cent of the population.
In the town of Melton Mowbray, 14,698 have received at least one jab, which is 54 per of everyone living there.
The figures for the parliamentary constituency of Rutland and Melton show that close to 80 per cent of adults have had their first jab.
Dr Dhanji added: "We will continue to offer further first dose vaccinations in line with vaccine supply available and JCVI guidance.
"From this week anyone aged 45 and over can book in for their Covid-19 vaccination as the programme continues to roll out."
The figures cover the period up to April 11 and will now be significantly higher still due to the lag in reporting.
Local Melton borough neighbourhood figures for residents who have had at least one jab:
Bottesford/Harby/Croxton Kerrial 6,154;
Asfordby/Frisby/Old Dalby 4,417;
Waltham/Wymondham/Great Dalby 4,378.
Appointments for a Covid jab can be booked online at: www.nhs.uk/conditions/coronavirus-covid-19/coronavirus-vaccination/book-coronavirus-vaccination/, or via invitations from your GP practice.