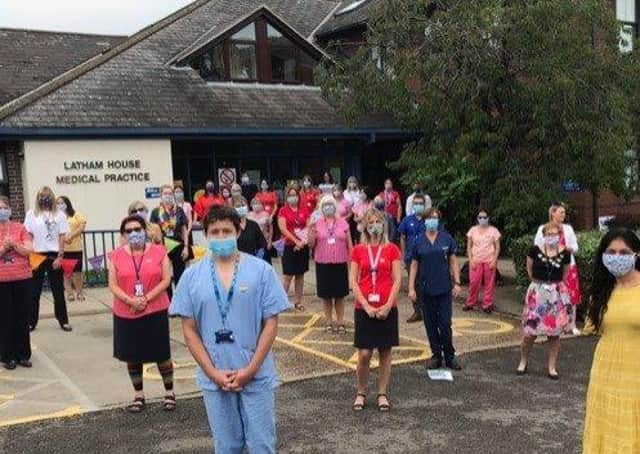 Staff at Latham House Medical Practice pictured last summer in the first months of the coronavirus pandemic EMN-210514-141121001
GP surgeries, including Melton's Latham House and Long Clawson Medical Practices, have published an open letter to illustrate how their services have been massively impacted by the Covid pandemic with a need to balance their general primary care work with giving vaccinations.
The coronavirus crisis has come at a time when demand for appointments has risen sharply and fewer doctors are working in the sector.
They say unfair national media reporting and critical social media comments have 'demoralised' staff and contributed to many suffering mental health issues.
Latham House GP Dr Fahreen Dhanji gives a coronavirus jab to a patient at the vaccination centre at Melton Sports Village EMN-210514-141309001
The letter issued by General Practitioners and Staff in Leicester, Leicestershire and Rutland warns that general practice is 'in crisis' and calls on residents to 'work with us' and be respectful and kind when they deal with their doctors' surgery.
It continues: "Constant negative comments have resulted in more patients complaining about their practices and our colleagues and staff being demoralised.
"When hospitals had to close whole departments, general practices were left to support those patients with complex chronic conditions.
"The huge backlog means that general practice will remain busy for the foreseeable future.
Latham House Medical Practice in Melton EMN-210514-141202001
"As hospital departments restart their outpatient clinics these are often done remotely, and they frequently expect general practice to pick up their work - for example, arranging blood tests and scans, prescribing medication, arranging follow up and issuing sick notes - in addition to our own workload.
"This further reduces general practices' ability to help our patients."
We reported earlier this month that the Melton, Syston and the Vale Primary Care Network (PCN), which involves medical professionals and staff at surgeries including Melton's Latham House, Long Clawson, Croxton Kerrial and Syston, had 'with a heavy heart' decided to step back from giving Covid jabs at the vaccination centre at Melton Sports Village.
The GP network said it wanted to concentrate on delivering general primary health care to patients at its sugeries with caseloads rising rapidly - Leicestershire Partnership NHS Trust will take over delivering the vaccines in Melton from late in June.
This issue is touched on in today's open letter, which continues: "On top of trying to cope with this increase in demand and reduction in resources, general practice has been the core of the highly successful Covid vaccination programme, delivering the majority of doses."
Practices in Leicestershire and Rutland also say in the letter that they want to resume face-to-face patient appointments as soon as it is safe to do so and they accuse the government of forcing through a change to online consultations 'which we do not believe is in the interest of our practices or the majority of patients'.
"This makes it much easier for younger IT savvy people to place ever increasing demands for advice and help about minor, self-limiting, conditions often as soon as they have started," they write.
"This means that practices will have less and less time to provide services to those patients who do not have access to, or cannot use, IT but are more likely to be suffering from significant illness.
"The outcome will be an increase in health inequalities."
GPs add in their letter: "We hope that this letter has helped to explain the pressures that general practice is under, why we cannot provide the level of service that you would like to receive and practices would like to provide.
"Please consider how you can help to protect services and ensure they are targeted towards patients."
An indication of the pressure staff at Latham House have been under has been described by Dr Fahreen Dhanji, a GP partner at the Sage Cross Street practice, who said: "Unfortunately many of our patients believe the false impression given by the tabloids, resulting in mistrust, abuse and unwarranted complaints."
Dr Nainesh Chotai (GP, Senior partner at The Glenfield Surgery and Chair of LLRLMC) said: "Consecutive governments have raised expectations without the required investment.
"We are asking our patients to recognise this, and help us to ensure that our limited resources are used for those patients with the greatest need."
Patients at GP surgeries across the two counties are asked to show respect and kindess to staff, be thoughtful and patient with the demands currently being places on staff and be self-sufficient when it comes to minor ailments by seeking online advice via www.nhs.uk without appraching doctors.
Those patients who have symptoms of cancer or other serious conditions are urged to make appointments, though, because there has been a marked reduction in people people presenting at practices with these.