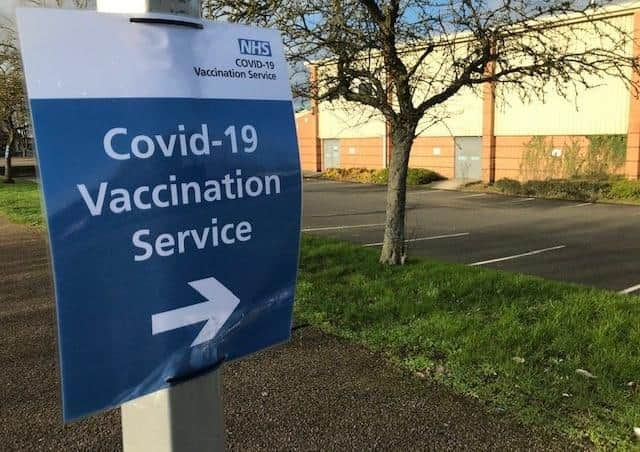 The Melton Vaccination Centre at Melton Sports Village, off Burton Road EMN-210104-182103001
New government figures released today (Thursday) also show that there has been an acceleration in the number of second jabs, from 25,589 last week to 42,391, which is nearly five per cent of the adult population.
This number should rise sharply throughout April as many older residents are due to get their second dose this month, the specified 12 weeks after their first.
In the borough of Melton, 27,925 people have now had at least their first jab, which is 56 per cent of the entire population.
The number of residents in Melton town who have had their initial dose now stands at 13,882, 51 per cent of the population.
In terms of the Rutland and Melton parliamentary constituency, 65 per cent of all adults have had a first jab.
The latest figures cover the period up to Sunday March 28.
NHS leaders in Leicester, Leicestershire and Rutland (LLR) have praised the efforts of everyone involved in the local Covid-19 vaccine programme, as the half a million milestone was reported today.
Almost 560,000 doses of the vaccine have been given in total across LLR, with 73,982 jabs given in the past week alone.
Andy Williams, chief executive of the LLR clinical commissioning groups, said: "It's fantastic to reach this milestone and it's a moment to say thank you to everyone who has helped to deliver the vaccine in our area.
"Alongside NHS staff, hundreds of volunteers are involved as vaccinators and in other clinical roles, as administrators, marshals, cleaners and site managers.
"I would also like to thank those who have organised conversations within their communities to discuss any concerns they have about the vaccine: Every person's efforts has enabled us to reach today's milestone.
"We have received so many positive comments from patients who have been impressed by the way the vaccination programme has been run.
"The vaccine is our way out of the restrictions we've had on our lives and we have begun to see the effects it has had in protecting people from the virus.
"People being vaccinated have told our teams it is a special moment and they are so thankful."
Vaccination teams are very grateful for the feedback they receive.
One comment, which is typical of the feedback, came from a patient in Rutland who said: "I have just received my second vaccination.
"On both occasions I was impressed with the number of people attending and the speed and efficiency that the vaccinations were carried out.
"What a team and thank you to everybody involved. Much appreciated."
Dr Sulaxni Nainani, GP and member of Leicester City CCG's Governing Body, said: "We've seen fantastic work carried out across our area, and we are planning new initiatives to increase vaccinations further.
"We have come up with innovative ways to reach our communities to ensure that the vaccine is taken.
"We have already had success with drop-in clinics where you don't need an appointment, including a clinic at the Al Furqan mosque, and we are looking at other options
such as pop-up clinics within specific settings and neighbourhoods.
"We're talking with our diverse communities to see what would suit them and creating bespoke models for different neighbourhoods, because we know that one size doesn't fit all."
The first vaccine dose in Leicester, Leicestershire and Rutland was given on December 12 at Leicester General Hospital.
Over the next few weeks, vaccination supplies are being prioritised for people who are due their second dose.
However, if you are over 50 and have not yet had your first vaccination, you should contact your GP practice.
Currently, people aged 50 and over, anyone who has received a letter from the NHS telling them they are clinically extremely vulnerable, anyone aged 16 and over with an underlying health condition, carers and health and social care staff are eligible to be vaccinated.
If you have an appointment booked and you are no longer able to attend because, for example, you have arranged an appointment via a different route, the advice is to make sure you cancel your appointment so that it can be made available to someone else.
LATEST NEIGHBOURHOOD VACCINATION FIGURES (at least one vaccine dose up to March 28):
Melton Mowbray North 4,833;
Melton Mowbray West 4,476;
Melton Mowbray South 4,573;
Asfordby/Frisby/Old Dalby 4,157;
Waltham/Wymondham/Great Dalby 4,132;
Bottesford/Harby/Croxton Kerrial 5,754;
Oakham West/Langham/Whissendine 4,123;
Wymeswold/Rearsby/Cossington 3,624;
East Goscote/Queniborough 4,122.