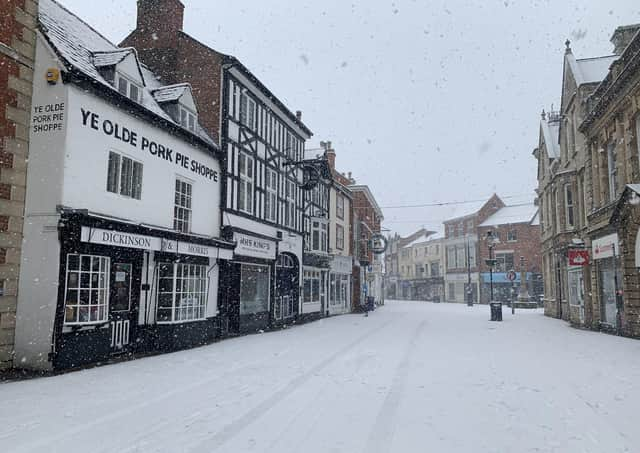 Heavy snow blankets Nottingham Street in Melton over the weekend PHOTO MELTON BID EMN-210125-092135001
Police advise motorists to stay off roads today with deep snow in rural areas and icy routes in many parts of the borough.
Schools have been closed during lockdown except for vulnerable students and those with a keyworker parent.
But many are closed this morning for all children and parents are being advised to make alternative childcare arrangements where appropriate.
People take a walk through Melton Country Park in snowy conditions on Sunday afternoon PHOTO ROBERT CRAIG EMN-210125-100657001
One of the few schools to remain open is Long Field Academy, which Tweeted: "We will be keeping school open on Monday and it is important we do this so our key worker parents can work.
"If you do not need your child to attend on Monday please let us know. School will be staffed with some staff absence due to the snow."
John Ferneley College, in Melton, is closed today due to the adverse weather but will reopen tomorrow.
The school Tweeted this afternoon: "We will be OPEN to key worker/vulnerable provision on Tuesday January 26.
Stitch and Sooty enjoying the snow at Brooksby Melton College's animal care unit today PHOTO BROOKSBY MELTON COLLEGE EMN-210125-165829001
"Our fantastic estates team have spent the day clearing the paths, and preparing the school site for a safe return of staff and students tomorrow."
Leicestershire Police said this morning: "Road conditions are still very poor and likely to be so for most of the day.
"Please avoid all travel unless essential."
Asfordby Captain's Close say it will also be open tomorrow for those children who have been attending during the current lockdown,
Roy Fisher sent us this photo of the garden at his home in Great Dalby EMN-210125-170207001
Oasis Family Pre-School, on Asfordby Road, was closed today and will also be closed again tomorrow, organisers say.
Leicestershire County Council's gritters have salted roads on 17 routes across the county since Saturday evening and the highways' teams have also attended a number of call-outs, including some road closures.
Crews are monitoring the weather throughout the day and highways' teams will be out in force again tonight as more freezing temperatures are forecast.
The county council has a total of 23 dedicated gritters covering 17 routes, who go out spreading roughly 170 tonnes of rock salt.
Melton Market Place covered in a blanket of snow this weekend PHOTO MELTON BID EMN-210125-170555001
Efforts are also made to grit one route into most villages where possible.
But although salt helps prevent ice, it can't melt snow or stop snow falling on top, so motorists are advised to remain cautious.
Trevor Pendleton, County Hall cabinet member for highways and transport, said: "Our highways team has been exceptionally busy over the past few days and our gritters have been out and about doing all they can to ensure major roads and key routes are gritted to keep our road network moving and to do all they can to keep drivers safe on our roads.
"We monitor the weather closely and our gritting teams will continue to be out and about throughout this cold snap."
This year, the council's grit barns are stocked up with 18,000 tonnes of rock salt, ready to tackle the worst of the winter weather.
Community snow wardens also do their bit by gritting paths – and local farmers help out by fitting snow ploughs to their tractors and helping the council to clear roads where necessary.
Around 20 teams have been involved in putting down salt by hand in town centres, particularly around key public locations.
Household waste and recycling sites at Lake Terrace, Melton, and at Somerby are both closed today due to the adverse weather.
Leicestershire County Council said this morning: "Due to the level of snowfall all of our waste sites are currently closed and residents with appointments for today will unfortunately need to rebook.
"We apologise for any inconvenience this has caused."
Residents are being reminded by local councils to check on elderly or vulnerable neighbours who may need extra help during the cold weather.
Schools and colleges closed today (this list will be updated regularly):
John Ferneley College, Melton;
Brownlow Primary School, Melton;
Sherard Primary School, Melton;
St Mary's Primary School, Melton;
The Grove Primary School and Oasis Pre-School Centre, Melton;
Asfordby Captain's Close Primary School;
Thrussington Primary School;
Brooksby Melton College, Melton;
Melton Vale Sixth Form College, Melton.
Long Field Academy, Melton;