Melton schoolgirl helps launch cancer support fundraiser
A seven-year-old Melton girl is trying to inspire primary school children to join her in raising money to support cancer sufferers.
Monday, 1st June 2020, 10:55 am
Updated
Monday, 1st June 2020, 11:40 am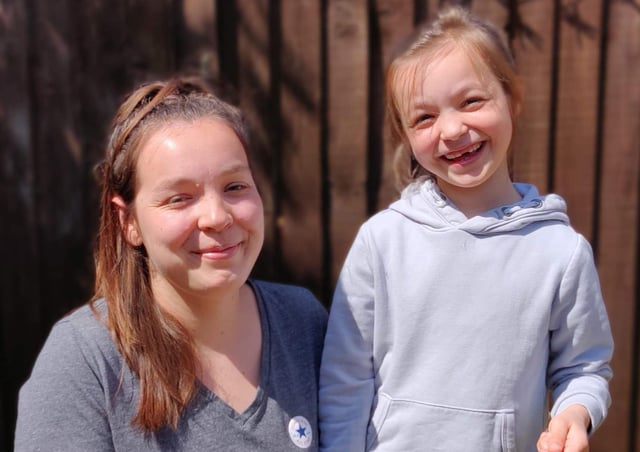 Melton schoolgirl Tia Acey (7) with mum, Charlotte - they are competing against each other as part of a fundraising initiative for a cancer charity EMN-200106-104717001
Tia Acey, a pupil at The Grove School in the town, has already raised £700 through a new scheme from Cancer Research UK's Race for Life Schools aimed at beating boredom during the current pandemic lockdown.
The initiative is suitable for families and teachers who might be setting activities for PE lessons at home or caring for children in school.
As well as familiar favourites like the sack race, it contains a host of indoor and outdoor ideas ranging from carpet bowls, limbo and target throws to scavenger hunts and ten pin bowling - which can all be staged with equipment in the home or at school.
Melton schoolgirl Tia Acey (7) who is helping launch a fundraising initiative for a cancer charity EMN-200106-104739001
Tia has set up a series of mini obstacle courses in her back garden using her teddies as markers to run between.
She is competing against mum, Charlotte, in a range of traditional events, such as the sack sprint and egg and spoon races, and seeking donations from family members and friends.
Tia was motivated to get involved in memory of close family friend, Linda Rowland, who died from cancer a year ago in June.
She said: "She was like a Nanny to me. I want to do this to help other people like my Linny."
Melton schoolgirl Tia Acey (7) who is helping launch a fundraising initiative for a cancer charity EMN-200106-104728001
Charlotte said: "Linda survived breast cancer some years ago but unfortunately cancer came back and spread through her body.
"It was heart-breaking to think she wouldn't see Tia and her granddaughter grow up because they were really close.
"The past couple of months have been a difficult for Tia not being able to see friends or go to school, so it's been good for her to have something really fun and positive to focus on.
"So many families are affected by cancer, so I hope others will join in and help the cause.
"Charities like Cancer Research UK will be hit hard by the current situation, but we can all play a part – no matter how big or small – in supporting life-saving work right now."
Go to fundraise.cancerresearchuk.org/page/tias-giving-page-47 to sponsor Tia's efforts.
Tia and her mum are calling on other families across the Melton area to get involved and make a small donation to the charity when they download the free sports day pack, which is full of tips, ideas and materials for holding a DIY sports day.
The guide, which is sponsored by Nivea Sun, also features advice to help children stay safe in the sun.
Paula Young, Cancer Research UK spokesperson for Leicestershire, said: "We'd like to thank Tia and Charlotte for their support and we remain ever grateful to our schools' community who normally organise or take part in Race for Life events every summer.
"It's such an unsettling time for us all, but especially for children whose lives revolve around familiar routines and calendar dates.
"Come rain or shine, garden or not – we've got lots of inspiration for activities that will help to lift lockdown spirits and get children moving."
Organisers are inviting supporters to unite by sharing photos and videos on social media using the hashtag #RFLSportsDay.
Cancer Research UK's Race for Life, in partnership with Tesco, is an inspiring series of events which raises millions of pounds every year to help beat cancer.
Last year, the charity was able to spend over £1 million in Leicestershire on some of the UK's leading scientific and clinical research.
Paula added: "With around three people diagnosed with cancer every hour in the region, we remain tirelessly committed to making progress for people affected by the disease.
"We appreciate that the current situation has resulted in financial uncertainty for many, but there is the opportunity to make a small donation for the pack if people feel able to do so.
"Now more than ever, support from the public is vital to help continue our mission."
Go online to raceforlife.org/sportsday to download a sports pack and get involved.