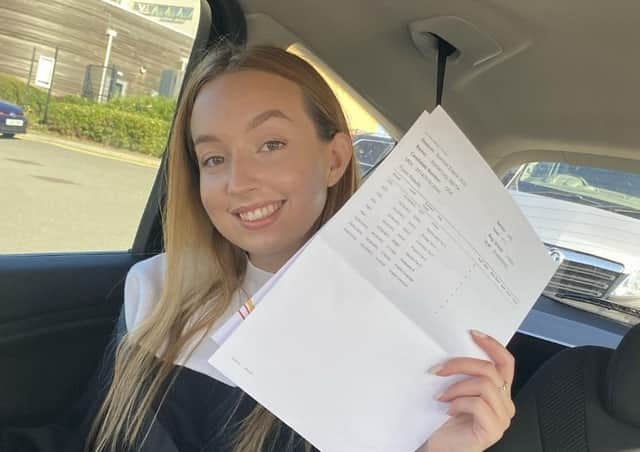 Harriet Smith, shows off her GCSE results - perfect 9 grades in her nine subjects EMN-200824-165806001
Harriet Smith (16) was overjoyed to discover her final grades when she went into the town's John Ferneley College on Thursday morning.
She is preparing now to study space engineering and A-levels at Loughborough College before hopefully going on to university.
Her performance was all the more impressive because, along with GCSE students across the country, she was prevented from taking exams because of the Covid-19 restrictions.
Harriet told the Melton Times: "I was hoping for high grades but I never expected to gets nines in each of them.
"It was even better that I was with all my friends when I opened the envelope because it was the first time we were all together again."
She said there had been uncertainty in the run-up to the results day because of the late changes by the government to how final grades were going to be assessed.
"It was a bit nerve-wracking the night before especially after what had happened with A-levels and students being downgraded," Harriet said.
Her perfect nine grades came in maths, English literature and language, biology, chemistry, physics, drama, Spanish and geography.
Harriet, a former Asfordby Captains' Close Primary School pupil, enjoys being a member of the 1279 (Melton Mowbray) Squadron Air Training Corps.
She added: "I needed to get sevens in my maths and science subjects to get on my college course so I was happy to get nines in those.
"I would like to be a fast jet pilot.
"I have got some flying hours in through being in the air cadets and I would like to do more flying."
Her parents, Dave and Joanne, commented jointly: "We are very proud of Harriet's achievements in what has been a difficult year.
"There were a few nerves leading up to results day, especially after what had happened the week before with the A-levels and knowing how much Harriet wanted to progress towards a career with the RAF.
"We are so pleased that all her hard work and dedication has paid off and we couldn't be prouder."
**If you are proud of what your son or daughter achieved in their GCSEs this year email the details to [email protected] and include a photo of them if you can.