Melton man 'over the moon' with TV game show winnings
A 30-year-old Melton man went on a television game show after being made redundant and won enough cash to enable him to pay for studies to change careers.
Friday, 11th December 2020, 5:25 pm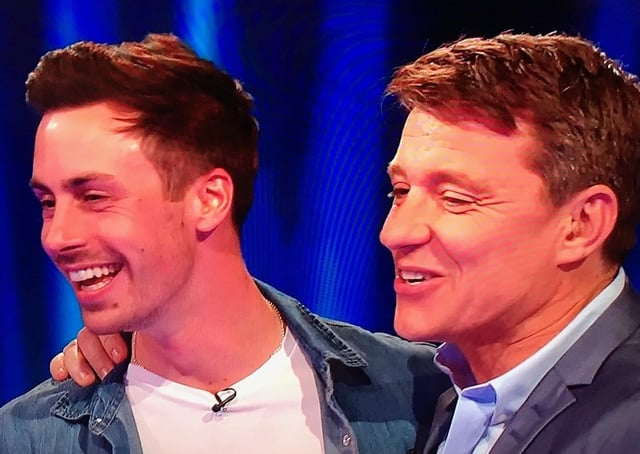 Melton man Ben Manship (left) pictured with host Ben Shephard on ITV gameshow, Tipping Point EMN-201112-171641001
Viewers of popular daytime ITV programme, Tipping Point, this week saw Ben Manship scoop £3,550 after answering general knowledge questions to win counters which are then dropped into a big coin-pusher arcade-style machine.
He narrowly missed out on winning £10,000 after deciding to take his winnings and then watching host, Ben Shephard, run through what would have happened and seeing he would have won the jackpot if he had gambled.
But Ben was happy with the amount he won because it came at a time when he was looking for a new job.
Melton man Ben Manship (third from left) pictured with fellow contestants on ITV gameshow, Tipping Point EMN-201112-171631001
He told the Melton Times: "The funny thing was I got made redundant just before the show and I was self-studying at home to becone a mortgage adviser and it cost me about £3,000 to put myself through all the exams.
"I said if I can get that three grand back I will be over the moon.
"I won £3,550 and that was literally the only reason I didn't take the gamble.
"I was absolutely over the moon because I got £500 more than I wanted."
Melton man Ben Manship plays Tipping Point on ITV EMN-201112-171620001
Ben, who is now working as a wealth manager for a local firm, said he applied just four months before he filmed the episode in Bristol, going through a group interview at Peterborough before being invited on the showh.
"It was a lot of fun being on the programme," he said.
"Ben Shephard was spot on and was chatting to us between sets.
"I wasn't too nervous being on the show - it's not really in my nature to be like that.
"To be honest, after my first drop won me £1,000 I just completely and utterly relaxed."
He started watching the show after losing his previous job and being at home during the day.
Ben, a former pupil at Melton's Sherard School and King Edward VII School, has also applied to be a contestant on Who Wants To Be a Millionaire but has not heard back yet.
His episode of Tipping Point was actually filmed in April 2019 but it has only just been aired due to changes to scheduling in the wake of the ongoing pandemic.
Ben had been sworn to secrecy about how he did and had only told family members and close friends.
He added: "Everyone I know seems to have seen it since it went out on Tuesday.
"My phone went absolutely mental with messages while it was on and it has continued in the days since it was aired."
You can watch Ben's Tipping Point appearance on the ITV Hub catch-up service, on the episode dated Tuesday December 8.